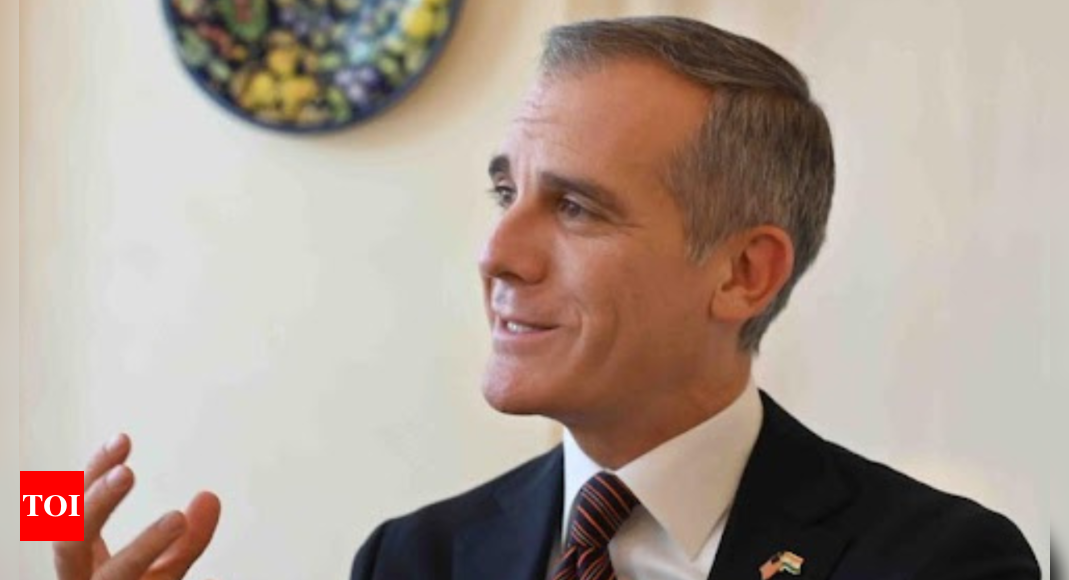 In his first media interview after taking charge, US ambassador Eric Garcetti spoke to TOI's Sachin Parashar about Russia, China and the Indo-Pacific, and also addressed India's concerns over terrorism and visa delays
India's relationship with the US can counterbalance the world and PM
Narendra Modi
's engagement with President
Joe Biden
is the most dynamic relationship between world leaders, US ambassador to India Eric Garcetti told TOI Thursday in an interview, shortly after presenting his credentials to President Droupadi Murmu and assuming charge officially as the US ambassador to India.
Garcetti, hand-picked by Biden to helm the US mission, addressed the differences over Russia's actions in Ukraine saying ties with India are not defined just by a single issue and complimented India for its "impressive'' G20 presidency. He also asserted that while both India and the US would like to have better relations with China, they would not do so by sacrificing their values. Together, he said, India and the US can better confront any threat, whether from China or climate change or the pandemic.
The ambassador sought to allay India's concerns over US' military ties with Pakistan, saying India now does more military exercises with the US than with any other country in the world and that the US stood resolutely with India on the issue of terrorism, while seeking a stable Pakistan. Garcetti also spoke about the delay in visa appointments saying he had spoken to Biden about the issue and that the focus was now on expediting visas for students and tourists.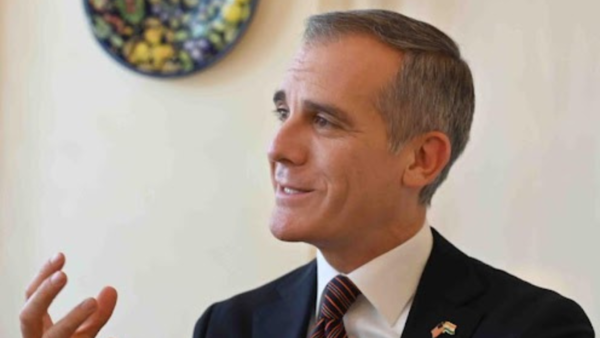 Excerpts:
How does it feel to be in India finally, ambassador? Talk to us a bit about your assessment of the relationship now and where you see it headed. Also, your expectations from the upcoming Modi-Biden meetings.
It feels amazing and like coming home. I feel like a 14-year-old arriving in India for the first time again which is when I first came here. We have seen the emergence of a new India. This relationship is not dependent on one person and if anything, we have seen it accelerate even while we were waiting for an ambassador. But I think my arrival makes this acceleration turbo-charged. I think this will go down as one of the most significant years in US-India relations. My priorities fit into 3 categories. First is to help us both promote greater peace for our people and the world, also greater prosperity and to connect our people more closely to one another. We are threatened by a very insecure world – whether it's war, climate change or the pandemic.
So, we have the power to create a more peaceful world, and more peaceful nations, and be an example. This relationship has the ability to counterbalance the world. I think the engagement between our 2 leaders is probably the most dynamic relationship between 2 leaders in the world today. They will meet face to face 4 or 5 times this year. PM's visit to the US next month will be the first state visit by an Indian PM in 14 years. It's only the third state visit that our president has hosted. To me it's an embarrassment of riches and reflects the ambitions and warmth not just between our leaders but also the people. It's like long-time friends meeting and they reflect the collaboration between our governments, people, institutions, businesses that really is unparalleled in the world today.
The Ukraine war has foregrounded your differences with India on Russia like never before in the recent past. Without going into the specifics, how much is that weighing on your mind as you take charge?
Russia's unprovoked attack on the sovereign territory of Ukraine is a moral moment for the world and you don't have to be taking sides to be affected by this war. It has disrupted the world economy, held back progress, questioned the rule of law and borders and sovereignty which I know in India are important.
Also to us and the entire world. We will continue to be a strong voice for the idea that the rule of law matters, that sovereignty and borders should be respected and to ensure that we have just peace that not only restores Ukraine to its sovereign borders but also the world economy and supply chains. But our relationship isn't defined by 1 thing. I think we can be friends and talk about that, understand long-term relationships that India has had but we also welcome India's contributions to bringing about that peaceful long-term just resolution that we want.
What do you make of India's G20 presidency? The lack of consensus on Ukraine seems to distract from India's focus on economic cooperation and Global South's problems.
India's presidency has been impressive and the US is there to support that. It doesn't mean we will agree 100 percent on everything. India wants to focus on the challenges facing the developing and the developed world. India isn't just a convening power. It's a producer of goodness and ideas that can improve not just Indian lives but everybody's lives.
What's your assessment of the situation in the Indo-Pacific and China's growing assertiveness? Do you think there's a need to reinforce the commitment to the joint vision for a free, open and inclusive Indo-Pacific at a time the global focus is on Ukraine?
While there's a lot of focus on Ukraine, the US has not only been concerned with the Pacific but the Indo-Pacific, a region I grew up in and which is a part of my DNA. India and the US see eye to eye on this. The communist Chinese government threatens the rules-based order, doesn't respect intellectual property and continues to constrain the ability of all of us to have open access to seas.
There are many threats out there and I think both India and the US would like to have better relations with China but without sacrificing our values. We will stand up for our values, you will stand up for your borders and I think we will stand together. And when I say India and the US have the ability to counterbalance the world, I think this relationship is based first and foremost on our relationship together and not on any third country. But the strength that our relationship can together better confront any threat whether it's from China, or climate change or the pandemic. We are stronger together.
Since you mentioned the significance of people-to-people contacts, can we expect a renewed effort to address the delay in visa appointments for Indians?
This is at the very top of my priorities. We have now reduced the wait time by 60 percent by increasing resources here. We had 1.2 million visitors from India to the US. The number 1 source of students for the US is India. I have spoken to the president personally and he is focused on this. He has given me the support to continue this momentum. We need to solve the problem not just for this year but for the long haul.
This is a great problem to have, as much as it is a challenge for us, because it means more Indians want to come to the US. Indians have contributed to our economy. I can't announce now but you will see speeding up of student visas this summer. In the past year, we have matched our pre-pandemic wait time for over 20 visa categories. Now our attention is focused on reducing the wait time for tourist visa applicants who require an interview. The in-person tourist visa appointment wait time is down 60% since the start of 2023."
Cross-border terrorism remains a major security and foreign policy challenge for India. What do you make of India's concerns in that regard about your military ties with Pakistan and the sustenance package announced last year for Pakistan's F-16 fleet?
We stand with India against terrorism and that partnership in some ways was the first big step we took, and it only got stronger. We have to stand resolutely against terrorism. India and the US have been both victims of terrorism and have been together not just symbolically but materially. Secondly, it's important for us that India wants us to be engaged to make sure we have a stable Pakistan because you are the first to feel that.
And so whether it's the unrest right now or whether it's the long-term relationship, we want to make sure that stability is there for all. India now does more military exercises with the US than with any other country in the world. Our defence procurement, joint manufacturing and people to people ties have never been stronger. I think that speaks for itself. India should never view our relationship through the prism of any other State. We now stand side by side like never before in our entire history.