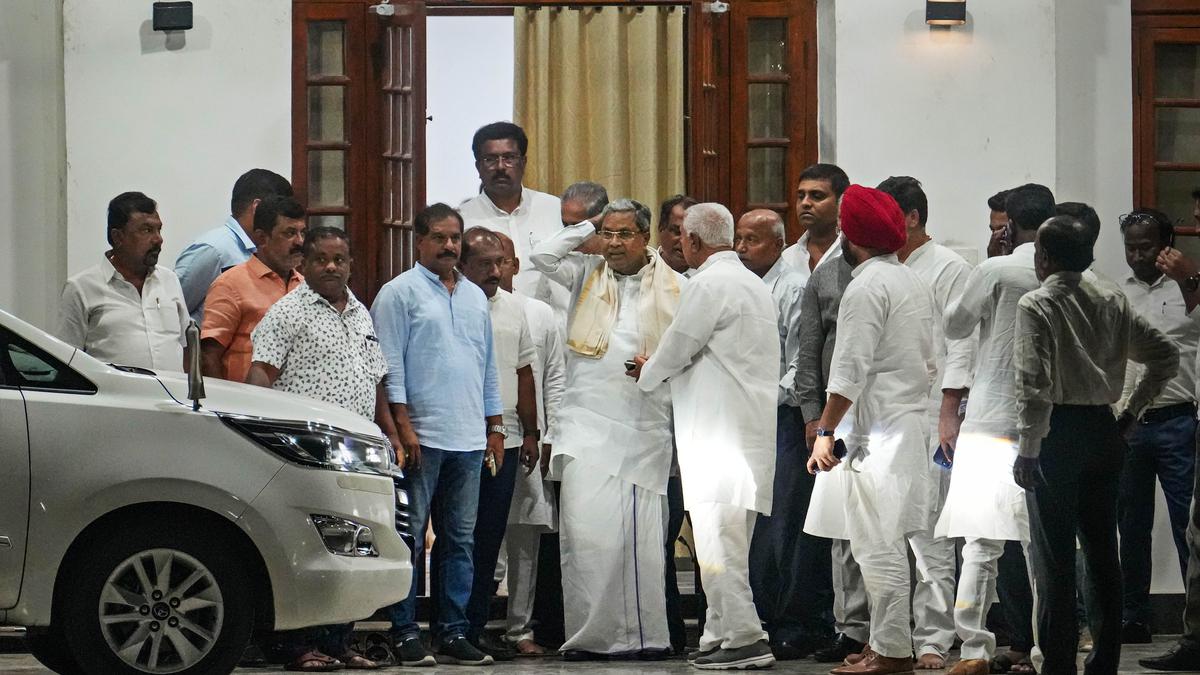 While the tussle continued on Tuesday between former Chief Minister Siddaramaiah and KPCC president D.K. Shivakumar for the top post with both reaching Delhi, different communities have begun demanding that the party high command appoint their leaders/MLAs for the post of the Chief Minister and also be given plum portfolios.
With the Congress bagging more than 42.91% of votes and 135 Assembly seats following widespread support of Veerashaiva-Lingayat, Vokkaliga, Kuruba, Idiga, Dalit, Muslim, and other communities and from across most regions, striking a balance in the power-sharing process will remain a major challenge for the party. Seers and leaders of different communities have already begun exerting pressure on the Congress high command.
In view of next year's Parliamentary polls, the Congress will be under pressure to give adequate representation to dominant communities such as Vokkaliga and Veerashaiva-Lingayat, who have many MLAs, while not offending other communities, given that it was the support of a broad rainbow social coalition that voted it to power.
Mahasabha's demand
All India Veerashaiva Mahasabha led by 92-year-old Shamanur Shivashankarappa, MLA, on Tuesday wrote to AICC president Mallikarjun Kharge and demanded appointment of a community leader for the top job. Out of 46 seats given to the community, 34 candidates are elected as MLAs, with a success rate of 74%.
Further, Mr. Shivashankarappa claimed that the community has played a major role in electing candidates belonging to other smaller communities in 50 constituencies. "This shows that the traditional voters of the BJP have shifted their loyalty to the Congress thereby supporting the party to win 135 seats in the State," he said.
"Keeping in view next year's Lok Sabha elections, we strongly feel that we have to retain the support of the community with the Congress to ensure maximum number of MPs in the State," Mr. Shivashankarappa argued
Meanwhile, former Deputy Chief Minister G. Parameshwara said he was ready to take up the responsibility if the party high command asked him to head the government. Mr. Parameshwara, a Dalit, has been the State party chief for more than eight years.
Besides the posts of Chief Minister and Deputy Chief Minister, different communities began intense lobbying demanding allocation of more Ministerial posts in the yet-to-be-formed Congress government.
Other communities
The seer of Arya Idiga Mahasamsthana demanded allocation of five ministerial berths to the community legislators and mentioned the names of B.K. Hariprasad, H.R. Gaviappa, Harish Kumar, Madhu Bangarappa, Belur Gopalakrishna, and Bheemanna Naik. Besides the Deputy Chief Minister's post, Muslim leaders have been demanding at least five Cabinet berths.
Also, as many senior and young leaders have been elected, the party is expected to face a daunting task in allocation of Cabinet berths on this count too. Many MLAs, who never had an opportunity to be in the ministry despite being elected two to three times, would be disappointed if more seniors are accommodated, while juniors are also vying for a chance.
For those who will miss
The party may also explore options of drafting some senior leaders, who will miss the ministerial bus, into prominent roles in building the party organisation ahead of the 2024 Lok Sabha election. In all likelihood, this would be a part of the exercise to balance the caste equation as there are too many aspirants from many communities.
A candidate from the Lingayat community may be appointed as the KPCC president, if Mr. Shivakumar is appointed as the Chief Minister, said party sources.