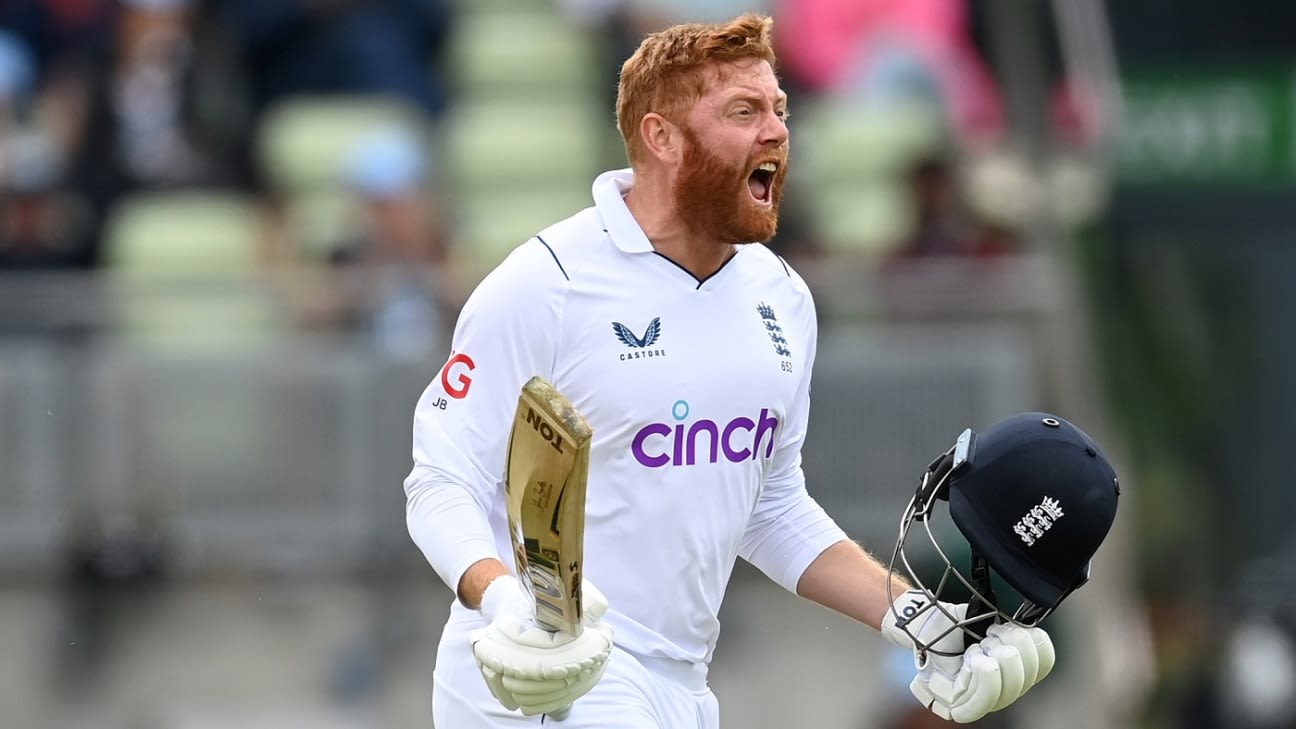 Jonny Bairstow
feared he would never walk again after breaking his left leg in three places last August.
On Tuesday, Bairstow's recovery from the horrific injury sustained while playing golf came full circle. After eight months on the sidelines, missing six Tests and England's T20 World Cup win, the 33-year-old was recalled to England's squad for the opening Test against Ireland ahead of the Ashes.
The accident curtailed a stellar 2022 for Bairstow. His 681 runs, featuring four centuries, at an average of 75.66 saw him emerge as the totem of an exciting new brand of cricket in Ben Stokes' first summer in charge.
As such, a recall was expected upon returning to competitive action with Yorkshire last month. For the man himself, however, there was a bit more trepidation.
The months spent slowly building back up were riddled with insecurities and fears. He was initially expected to be fit enough to honour his IPL contract with Punjab Kings, adding to the frustration building up during a lengthy recovery period. Cricket aside, there were thoughts that even daily life might not be the same again.
"You wonder whether or not you'll be able to walk again, jog again, run again, play cricket again," Bairstow said. "Absolutely, those things do go through your mind.
"It depends how long you think about them. There are many different things, until you get back to playing, well… you wonder, is it going to feel the same?"
While there are no mental scars, Bairstow revealed the injury has changed his gait. Not that he is worried about it.
"It's quite funny, people have said, 'You're limping'. Well, I don't know anyone that's had a major lower leg injury that does walk exactly the same as previously. There are going to be little limps, there are going to be aches, pains, that's part and parcel of it. Whether it's knees, hips, ankles, lower back, whatever it is.
"When there's trauma, there's going to be an adaptation to the way that your body moves or your body walks, that's just part and parcel of it. I'm not going to be running exactly the same as last year, but that's okay."
Bairstow also dismissed concern his left leg will affect his ability to operate as England's designated wicketkeeper for the first time since 2019. Since returning for his county, he has been behind the stumps for 299.4 overs spread evenly between fixtures against Glamorgan and Durham.
He will play for Yorkshire in the T20 Blast at Edgbaston this weekend, before training at Headingley ahead of joining the England squad ahead of the Ireland Test. He offered "no comment" when asked if that involved a return to the golf course as part of a mooted team retreat to Scotland ahead of the international programme.
"I don't think it's different to fielding – when you're sprinting, changing direction," Bairstow said of keeping wicket. "You're squatting at the stumps and moving laterally, but you're not running at 25ks to the boundary. So, it's a different kind of fitness – the old legs and glutes are a bit stiff after that first day in the dirt but it's part and parcel of it.
"That first second XI game (against Nottinghamshire before his return to 1st XI cricket), I kept 100 overs in the game. The last two Champo games – it's been building nicely. A day off, train, train, train. It's been back-to-back and there hasn't been any reaction. If it swelled up, you know there's something wrong. So it's positive."
Bairstow's return
meant bad news for Ben Foakes
, who was subsequently axed from the England squad. Foakes had kept wicket in nine of the 12 matches since the start of the summer, with Stokes and head coach Brendon McCullum lauding his qualities. However, the emergence of
Harry Brook
over the winter and persisting with Zak Crawley as opener meant Foakes had to make way. Bairstow empathised with the Surrey keeper-batter's plight.
"He's been an integral part of the last 12 months and how he's gone about it," Bairstow said.
"It's something which is never easy and I've been on the end of it. So absolutely I've got some sympathies for Ben. I've no doubts he'll be back in the fold at some point soon."
Bairstow's relationship with the gloves is a well-told story and one that should not be overlooked. His late father, David, kept for England and it has long been a point of pride that Jonny had been able to do the same for Yorkshire and England in 49 of his 89 caps to date.
"I'm excited. It's going to be a new challenge again because it is obviously something I've done quite a bit, but then there are periods when you don't do it as much because you're playing as a batter. Or playing white-ball cricket or whatever. It is an exciting challenge that awaits."
While there is a question mark over whether he will be able to replicate 2022's exploits with the extra responsibility of the gloves, Bairstow points to his stellar year in 2016. Across 17 appearances, he registered 1,470 runs and 70 dismissals, both records for a Test keeper in a calendar year. He believes it was an example of why his merits as a keeper-batter compared to Foakes, widely regarded as the superior gloveman, cannot be understated.
"That was an amazing year. That was very special, keeping and batting. They're the things you draw upon when people ask if you can do it, absolutely, there's past history. I was at No.7 too.
"That was the whole role – the selectors wanted someone at seven who were able to bat with the top order but also be able to score runs with the tail. You don't need to be a genius to work that bit out. Someone like Adam Gilchrist changed the way keeper-batsmen were viewed. He wasn't the best keeper in Australia – he was the best keeper-batter in Australia then won games of cricket for Australia on the back of how he went and played. And Dhoni…you can go through the whole world and look at people who are better keepers, better batters and it's then a combined thing that then comes into it."
Bairstow harbours no animosity at missing out on the T20 World Cup victory, 3-0 win in Pakistan and thrilling 1-1 draw in New Zealand, though ceded the winter had "been a lot of fun, and I've missed it". Bairstow would have played a prominent part in all three, particularly the World Cup in Australia. Prior to his injury, he was informed he would be opening the batting in the tournament alongside Jos Buttler
"Watching the lads win it filled me with a huge amount of pride. And the emotions you go through on that morning watching the lads (in the final). Everything else has been great to watch as well as be a part of it because, even though you're injured, you're still a part of the group. The boys have been brilliant; stayed in contact, staying in the loop and having conversations around everything. The odd Facetime, the lads talking utter rubbish."
Reflecting on the emotions when McCullum informed him of his selection, Bairstow admitted to a huge sense of satisfaction. After the travails of the winter, a new chapter has opened.
"I was buzzing. It filled me with a lot of pride again. I've said there's been some dark times this winter and it's been tough so to get that phone call after all the emotions you go through and everything else this winter…there's a huge amount of pride that goes into it. Yes, getting that phone call…it was awesome."
Jonny Bairstow was speaking at a partnership launch announcing Radox as an Official Partner of England Cricket.
Vithushan Ehantharajah is an associate editor at ESPNcricinfo