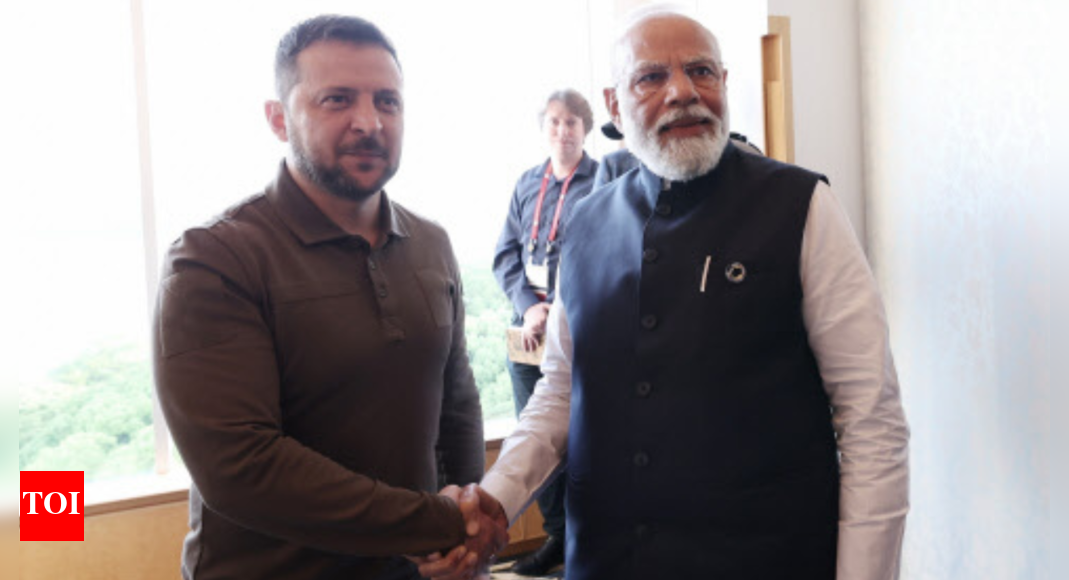 HIROSHIMA:
Ukraine
's President Volodymyr Zelenskyy invited his PM
Narendra Modi
to join the Ukrainian Peace Formula initiative and also thanked him for supporting the country's territorial integrity and sovereignty.
Taking to Twitter, Zelenskyy said, "Had a meeting with Prime Minister of India @narendramodi in Japan. I briefed the interlocutor in detail on the Ukrainian Peace Formula initiative and invited India to join its implementation. I spoke about Ukraine's needs in humanitarian demining and mobile hospitals. I thank India for supporting our country's territorial integrity and sovereignty, in particular, at the platforms of international organizations, and for providing humanitarian aid to Ukraine."
In the meeting, PM Modi assured that he will do whatever is possible to help in resolving the Ukraine conflict.
"India and I will do whatever we can for resolving the conflict," said PM Modi.
This is the first meeting between the two leaders since the Russia-Ukraine conflict that began last year on February 24.
"For the past 1-1.5 years we have had telephonic conversations, but after Glasgow, we are meeting after a long time," said PM Modi.
The Ukrainian President is attending the summit on an invitation by Japan, the current chair of the powerful grouping.
Since the Ukraine conflict began, PM Modi has spoken to Russian President
Vladimir Putin
as well as President Zelenskyy a number of times.
New Delhi has sought a diplomatic solution to the conflict. At the same time, PM Modi told Russian President Vladimir Putin in September that now is "not an era of war".
Diplomatically, Prime Minister Modi's advised President Putin for a "cessation of violence" and for all sides to return to the dialogue table.
PM Modi's telephonic conversation with Russian President Vladimir Putin underlined that Delhi for now will stick to a path of strategic ambivalence on the Ukraine crisis. This is a pragmatic choice, one that reflects the complexities of a realist world and Delhi's own positions on territorial integrity and sovereignty.
In a phone conversation with President Zelenskyy on October 4 last year, PM Modi said there can be "no military solution" and that India is ready to contribute to any peace efforts.
India has maintained that the crisis must be resolved through diplomacy and dialogue.PM Modi is in Japan to attend the Group of Seven (G7) summit. The prime minister is visiting the East Asian country at the invitation of his Japanese counterpart, Fumio Kishida.
"The war in Ukraine is a major concern for the world and it has affected the entire globe, but I don't consider it as a political or economic issue, this is an issue of humanity, humanitarian values for me," said PM Modi.
Anguished at the pain of Ukrainians, PM Modi said, "What is the pain of war, you know it better than us. Last year when our children (Indians) came from Ukraine and shared their experiences there, I came to know about your pain, the pain of Ukrainians."
Japan is hosting the G7 summit as the current chair of the powerful grouping. PM Modi will be in Hiroshima for the G7 summit from May 19 to May 21. He is expected to speak on global challenges, including food, fertiliser and energy security.
Zelenskyy on Saturday landed in Hiroshima, Japan to attend the annual summit of the Group of Seven (G7), the world's most industrialised countries.
Live footage on Japan's public broadcaster, NHK, showed Zelenskyy stepping off a French plane at an airport in Hiroshima. According to the New York Times, a red carpet was rolled out minutes before his arrival, and he has immediately whisked away in a black sedan.
"Important meetings with partners and friends of Ukraine. Security and enhanced cooperation for our victory. Peace will become closer today," Zelenskyy tweeted on arrival in Japan.
The Ukrainian leader, who made a surprise visit to an Arab League summit in Saudi Arabia on Friday, is looking to rally the international community to increase sanctions on Russia and pledge further support for Ukraine, according to a report in Al Jazeera.
Zelenskyy's visit comes a day after US President Biden informed the G7 leaders in Hiroshima that the US would support the joint allied training of Ukrainian pilots on fourth-generation fighter jets, including the F-16. Once the training gets underway, it would be decided when and how many aircraft would be delivered and who in the coalition would provide them.
Biden said he was also prepared to let other countries give F-16s to Ukraine, reported The New York Times.