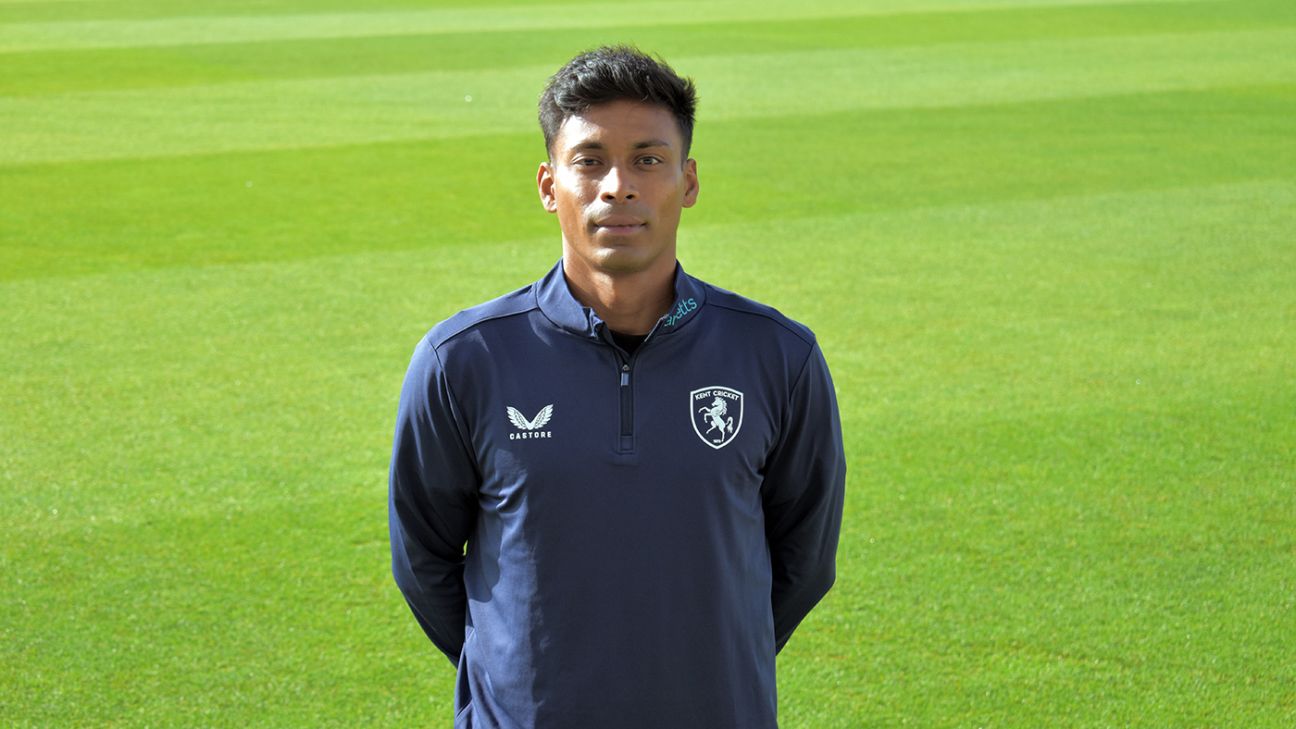 Kent 278 (Evison 77*, Lawes 3-41) and 80 for 4 (Mueyeye 42, Crawley 31*, Lawes 2-2) trail Surrey 362 (Abbott 78, Sibley 60, Atkinson 55*, Bhuiyan 4-65) by 4 runs
There was still one delivery left in the 83rd over, but
Arafat Bhuiyan
already had his jumper off down at fine leg. Realising his error, he chucked it over the boundary rope, walked in for the final delivery, then chucked his hat on top of that and hurried to the bottom of his mark at the Vauxhall End to continue his spell with the second new ball.
It was a show of faith from Kent captain Sam Billings to give first dibs to a bowler in just his second day of first class cricket, but Arafat had earned it. Surrey had just slipped into the lead with only two wickets remaining.
Sean Abbott
had passed fifty for the second time this season and was hellbent on hitting the red off the ball, alongside Gus Atkinson who had his eye in. There was scope for a sizeable lead, and Kent needed to put a stop to it.
Their fears would be realised as Atkinson struck three gorgeous sixes – all down on one knee – in a superb 55 that established a lead of 84. The good news for Kent is they whittled it down to four by stumps on day two, thanks to an eye-catching 42 from
Tawanda Muyeye
and an unbeaten 31 from
Zak Crawley
. The bad news came in the form of a thrilling late burst from
Tom Lawes
, nipping out Muyeye and then Jack Leaning with the final ball of the day to leave Surrey with just six second-innings wickets to take.
The visitors go into the weekend up against it, not least because there aren't many better than the Division One leaders and defending champions at turning the screw in the second half of matches. That Kent were able to go toe-to-toe with them for most of Friday was thanks to Arafat.
The 26-year-old's 4 for 55 had Surrey on the ropes, with 180 for 6 on the board, before Abbott counter-attacked to 329 and Atkinson's blow landed them on 362. There was no dismay from the seamer as he missed out on a five-wicket haul on debut. The four he did nab were as impressive as any milestone.
Arafat's maiden first-class dismissal was none other than newly appointed England vice-captain
Ollie Pope
, crown prince of Surrey, lord of this manner what with a red-ball average of 97 here at the Kia Oval. A usual dance down the track, a usual flick through midwicket went unusually awry as Pope found Grant Stewart at a well-placed midwicket.
Jamie Smith became the second; indeterminate footwork and a loose attempt at a punch sending an edge to Jack Leaning at second slip. In the space of four deliveries, he had Ben Foakes – another catch to Leaning – and Will Jacks, who had struck Arafat for six over square leg before being too slow on a pull and gifting a catch to Michael Hogan at mid off.
Past, present and future England internationals in his first go at this level. As far as dream starts go, this could take some beating for a cricketer who only turned professional two days ago. The action itself is smooth, energy collected in the gather and released with a smoothness that suggests there's a lot to work with, particularly an outswinger that moved late enough to surprise an impressive batting line-up beyond the dismissals on the scorecard. The run-up starts tentatively, but that can be smoothed out at this level. He is more than capable, and willing to get better.
"To be able to get four first class wickets on my debut in the first innings, I'm over the moon really," said Arafat. "I'm here to do well and I'm always going to keep my mind that way."
He admitted to nerves when he first took the ball on day one, though he did start with a maiden against
Dom Sibley
, whose 60 carried the first 50 overs of Surrey's response to Kent's first innings.
"I was more nervous yesterday than today," he said. "Today I came in and I needed to bowl some overs in the nets. I was more nervous bowling than batting yesterday. But today it came out quite nice."
Born in Dhaka, Bangladesh, Arafat moved here at the age of 14 and has UK residency. Living in east London, it was only a short train to Chelmsford, where Bangladesh were playing Ireland in three ODIs last week. Arafat, though, was unable to attend as he was up in Kidderminster preparing for a 2nd XI match for Worcestershire against Warwickshire. Rain ended up washing out the match completely.
That pretty much reflects Arafat's journey to this point. A lot of second-team cricket and a lot of waiting. As it happens, a first taste of county seconds came at Surrey, playing alongside Pope against a Kent XI that also featured Crawley back in 2017. Stints for Derbyshire and Essex twos followed. There was a period on the MCC Young Cricketers' Scheme, though that came to an end after just a year. To have fallen through the gaps in a programme regarded as a safety net must have been a blow. But Arafat's persistence won out.
He gives special credit to the South Asian Cricket Academy, an initiative established ahead of the 2022 season, which didn't just catch him but allowed him to thrive. SACA, co-founded by Dr Tom Brown and former England international Kabir Ali, made arrangements to move Arafat up to Birmingham over the winter to join their training programme on a full-time basis. He then showcased his talents during a trial session at Leyton Cricket Ground's indoor school in February, with Kent head coach Matt Walker in attendance.
After impressing in Kent's seconds with 17 wickets, he was offered a contract earlier this week to improve the club's bowling depth, becoming SACA's seventh "graduate" to move from the scheme onto a county contract. All the hard work, all the second team gigs, all the waiting had come good. That he is only one of three British Bangladeshis to have been on staff at a county – a community in excess of 600,000 – speaks to the necessary work SACA are doing to improve British Asian representation in the county game.
"I've worked hard for this," Arafat said. "Seven years is a long time to become a professional cricketer. Playing for different counties, trialling around. There are quite a lot of other people, it's not only just me. There are a lot of people trialling, still trying. I happened to be at Kent in pre-season, and obviously being at SACA has helped me. I'm going to give credit to Dr Tom Brown who has helped me during the winters."
Arafat's teammates from Blackheath Cricket Club have been at the Oval these last couple of days, congregating down at fine leg with him between spells and occasionally using the advertising boards to drum their approval throughout his 20 overs. His twin brother has been watching him intently, and there is hope his parents will be in attendance on Saturday.
They will have to watch him bat first as Kent look to establish a good enough lead to give him and their bowlers something to work with. That nightwatchman Wes Agar was one of the four lost in the evening session does at least mean there are a few batters to come to pump up this second-innings score, along with Crawley who looks settled and hungry for something big.
Surrey could argue they should be further in front given the nature of some of the decisions against them. Most contentious was Sibley's on the stroke of lunch, after Joey Evison had found his edge. In real time, it looked a spectacular diving catch from Leaning to his left, but replays were less than convincing. Even Sam Curran, always of Surrey but a Punjab King until the end of May, took to Twitter to offer an opinion – very not out, to paraphrase – with an accompanying screenshot, both of which were deleted pretty quickly.
Lawes, too, felt aggrieved when Agar used the new ball get some extra lift off the pitch. An edge ballooned to first slip, though assessment of the replays and the loop of the ball suggested the deflection was off the right shoulder of his body rather than the bat. Fair to say they had their revenge by stumps.
Vithushan Ehantharajah is an associate editor at ESPNcricinfo