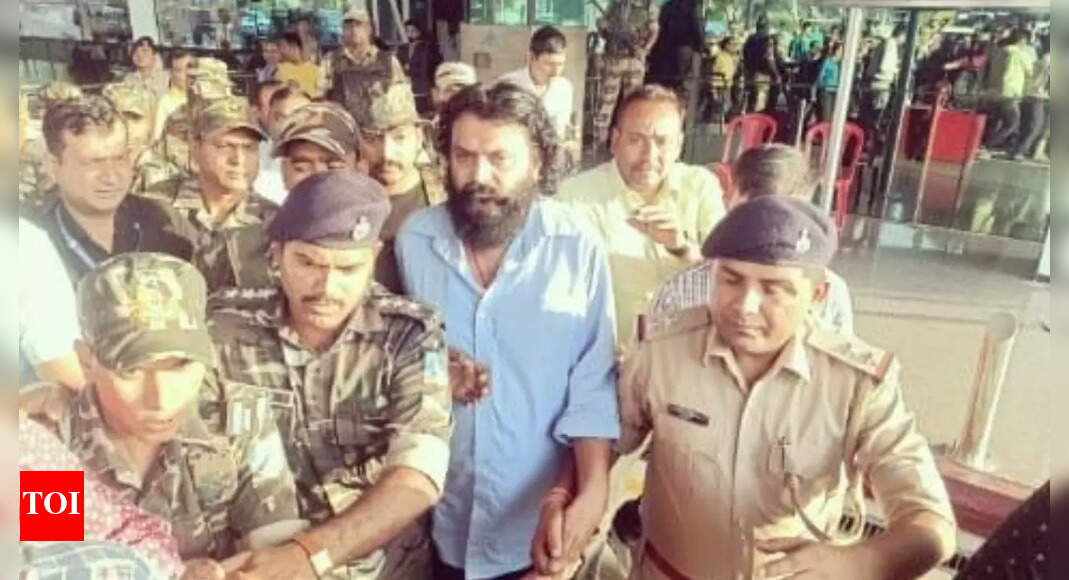 NEW DELHI: The National Investigation Agency (NIA) on Sunday arrested Dinesh Gope, the self-styled head of proscribed Naxal outfit People's Liberation Front of India (PLFI) and an accused in over 102 criminal cases across three states, in Delhi.
Gope, also known by aliases Kuldeep Yadav and Badku, carried a total reward of Rs 30 lakh, including Rs 5 lakh declared by NIA for leads on him and Rs 25 lakh announced by the Jharkhand government. Charge-sheeted earlier in a 2018 NIA case relating to recovery of demonetised currency with face value of Rs 25.4 lakh from PLFI operatives in Ranchi in the year 2016. Gope had been absconding for almost two decades.
Among the 102 cases registered against him in Jharkhand, Bihar and Odisha, are ones relating to murder, abduction, threats, extortion and raising of funds for PLFI, a Left-wing extremist outfit formed in 2007 in Jharkhand and also a splinter group of the CPI(Maoist) which is designated as a terrorist outfit under the Unlawful Activities (Prevention) Act.
On February 3 last year, an encounter had taken place between the security forces and a PLFI squad led by Dinesh in the forest area under Gudri Police station in West Singhbhum district of Jharkhand. Several rounds were fired in the encounter before the rebels sneaked into the forest and Dinesh managed to escape. He had since been taking shelter at different places while making all efforts to re-establish the PLFI's stronghold in Jharkhand, NIA said in a statement on Sunday.
Gope allegedly extorted money and execute attacks through his PLFI team members to terrorise businessmen, contractors and the public at large, said NIA. He and his associates allegedly deposited the demonetized currency in a bank account at a petrol pump, to be later collected through levy/extortion. The illegal money was then invested through banking channels and dubious shell companies in the name of Dinesh's close associates and family members, such as M/s Palak Enterprises, M/s Shiv Adi Shakti, M/s Shiv Shakti Samridhi Infra Pvt. Ltd., M/s Bhavya Engicon. The extorted money was also transferred from Jharkhand to other places through a network of hawala operators.
Known previously as Jharkhand Liberation Tigers (JLT), PLFI is allegedly involved in hundreds of terror incidents in Jharkhand, including murders caused by firearms including AK-47 and foreign made rifles like HK33. The outfit used to lure unemployed youth by providing them motor bikes, mobile phones and easy money and after imparting training, would equip them with lethal weapons to carry out terror incidents.
Extortion is PLFI's major source of income and the outfit has been targeting coal traders, railway contractors and various private entities involved in developmental projects in various district of Jharkhand. The Naxal outfit had formed alliances with different criminal gangs in order to spread its nefarious activities, and executed several incidents of murders and arson in Jharkhand.
In July 2007, Masi Charan Purty, a renegade of the CPI-Maoist, along with his followers, had joined Gope in order to raise PLFI. Though Purty was subsequently arrested, the PLFI spread its activities under Gope's command. He used to collect huge amounts of extortion money, which was further used to procure sophisticated weapons.
The demonetised cash case was initially registered by Jharkhand police on November 10, 2016, and re-registered by NIA on January 19, 2018. The police filed the first chargesheet against four persons on January 9, 2017.
NIA filed the first supplementary chargesheet in the case against 11 accused, including Dinesh. Subsequently, a second supplementary chargesheet in the case on July 23, 2022 against five individuals and three private limited companies. NIA had also attached 14 bank accounts and two cars, along with cash and immovable property worth more than a crore, in the case.