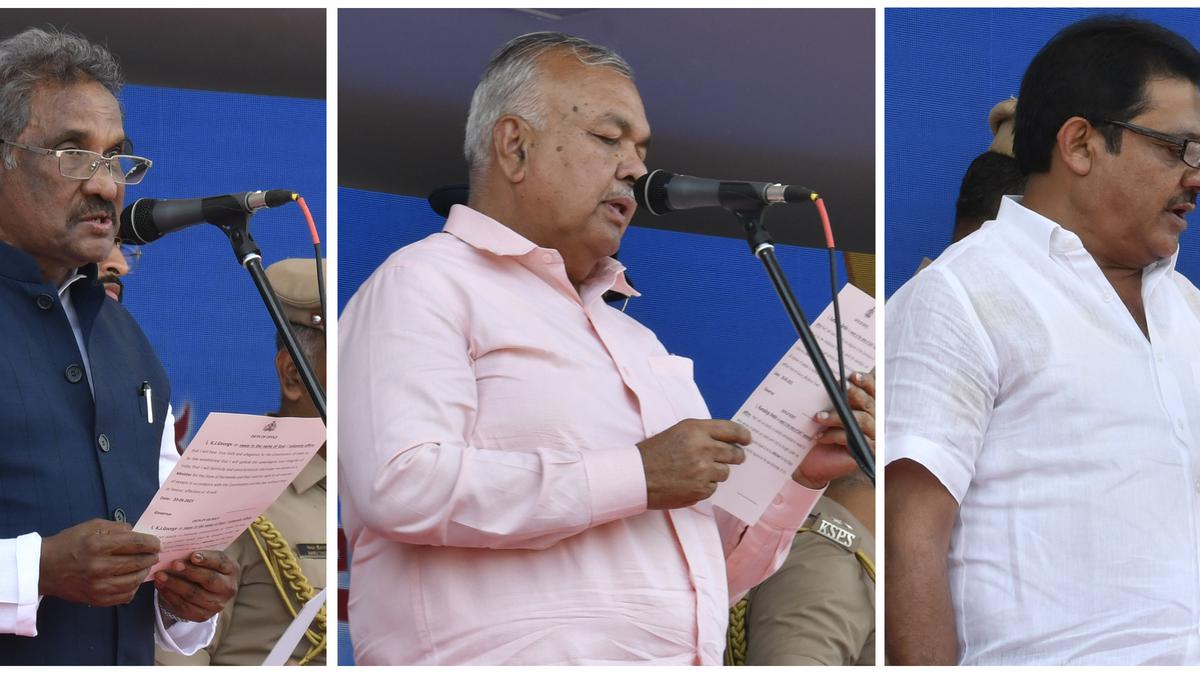 Among the eight who took oath as Ministers on Saturday, three – K.J. George, Ramalinga Reddy, and B.Z. Zameer Ahemed Khan – are from Bengaluru. This, despite the Congress not faring well in the city and the BJP increasing its vote share, has raised many eyebrows. 
Mr. George, six-time MLA, and Mr. Reddy, eight-time MLA, were expected to make the cut in the first round of the Cabinet expansion and they did. However, Mr. Khan, five-time MLA, making the cut has caused some consternation.
Six-time MLAs and the young urbane faces of the party, Dinesh Gundu Rao and Krishna Byre Gowda, are expected to join the Cabinet in the next expansion.
Meanwhile, N.A. Haris, Shantinagar MLA, and Krishnappa, Vijayanagar MLA, are also lobbying hard to join the Cabinet, sources said.
Mr. Haris' candidature is supported by Deputy Chief Minister (DCM) D.K. Shivakumar, sources said. However, given that Mr. Khan, a close associate of Chief Minister Siddaramaiah, has already been made a Minister, Mr. Haris will unlikely find a berth in the Cabinet, sources said. 
While there was an intense competition among the two Ministers as to who will hold charge of the city, Mr. George won that battle during the previous tenure of the Congress, also under Mr. Siddaramaiah.
However, this time, Mr. Shivakumar has expressed his interest in the Bengaluru Development portfolio and will likely get it too, sources said.
Multiple sources in the Congress confirmed to The Hindu that Mr. Shivakumar had sought the city Ministry along with another key portfolio. Mr. Shivakumar hasn't been a MLA from the city but he has been an eight-time MLA from Kanakapura, on the outskirts of the city and earlier held the Urban Development Department in the S.M. Krishna Cabinet. 
Meanwhile, lobbying is still on to secure the Bengaluru Development portfolio. A senior party leader argued that Mr. Shivakumar had never been actively involved in the city's politics and in light of this, giving him charge of the city would pull the party down in a critical election season.
"Given that civic polls are likely to be held by end of this year and Lok Sabha elections by mid-next year, Mr. Reddy, who has been the face of the party in the city, would be a better candidate. He has also been working president of the Karnataka Pradesh Congress Committee, Bengaluru Division too," the leader said.
However, he was quick to add that the organisational skills of Mr. Shivakumar, proven to be extremely good in light of the recent Assembly election results, would play a key role in the civic polls, if he was given charge of the city.