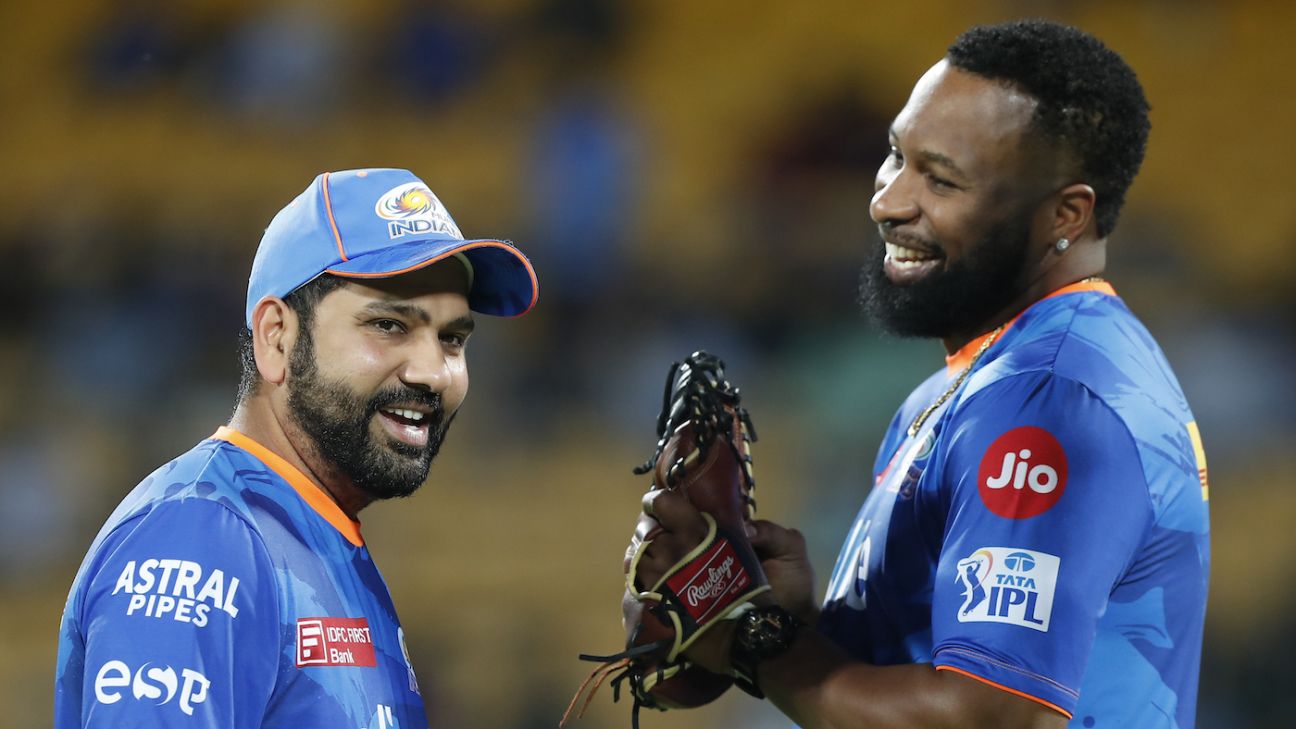 India and Mumbai Indians captain
Rohit Sharma
believes T20 cricket has changed and there is no role left for anchors in the format. Subsequently, he has been exploring what more he can do as a batter in the format. Rohit said while power-hitting could never be his forte, as a batter, he wants to do things "differently" now without worrying too much about the outcomes.
"As I see it, there is no role for an anchor now. It is just how T20 cricket is played these days, unless you are 20 for 3 or 4, which is not going to happen every day," Rohit said. "Once in a while, you will be in that position and then someone needs to anchor the innings and finish off to a good score. [But] there is no role for an anchor anymore, guys are playing differently."
Rohit said he felt a change in mindset is mandatory. "If you do not change your mindset, you are going to get smashed," he said in a conversation with Jio Cinema. "People on the other side are thinking about the game differently and taking it to the next level.
"All seven batters need to play their role, I believe that if you get a good score, it is good, but even if you get a good 30-40 off just 10-15 or 20 balls, it is as good because you are doing the role for the team. The game has changed."
Rohit said he has played T20 cricket long enough for him to try new things without worrying about a failure. "I just want to play that way and see what I can do. I have played this format for a long time and in a certain manner. But I want to do different things now. While doing that, [if] I get out, [it] does not really bother me.
"If you see,
in Chennai
and before that
in Mohali
, I got out for zero. In the third game,
against RCB
, I stepped down the first ball. I thought I have failed thrice in as many attempts but it is fine, this is what I am going to do."
But, he said, he cannot switch to all-out power-hitting because others are doing so, and would prefer to get the runs in his own way.
"But my thinking is that if I am getting a six after 65-70 metres, I only have to hit 80 metres. Why do I need to hit 100 metres? I will do that once you allow eight runs for it.
"I will hit 80 metres only because I am getting six runs for it, and for that I need to time the ball. I do not need to muscle the ball like the other guys do – that is their strength. My strength is to get the ball in the middle of the bat, which is what we call the sweet spot."
Rohit offered Mumbai Indians and India team-mate
Suryakumar Yadav
as an example of this type of batting bringing much success. "Look at Surya; he is not hitting it big. He can also hit 100 metres but his thinking is also the same [as me]."
Tilak Varma and Nehal Wadhera will be huge stars, says Rohit
Rohit, who's Mumbai team is looking for their sixth IPL title, said they are tagged a team of superstars, but the franchise has had to work for this to come about.
"Yes, it is a superstar team, but it is because the franchise has worked for it. All these players are part of the big auction pool – we have bought them.
"Our team of scouts had worked day and night to get
Jasprit Bumrah
and
Axar Patel
here from Ahmedabad.
Hardik
[Pandya] and
Krunal
[Pandya] were spotted in 2015 and we got them here. We have worked hard for it. It was a five-year journey from 2015-2020."
Among the current lot, Rohit reserved special praise for
Tilak Varma
and
Nehal Wadhera
, whom he said will be "huge stars" not only for Mumbai Indians but also for India.
"It is going to be the same story with what has happened with Bumrah, Hardik and all these guys. Tilak Varma and Nehal Wadhera… you watch the next two years. But then people will say 'it is a superstar team'. Yes it is, we are making them here. These two guys are going to be huge stars for us and for India."
Edited PTI copy