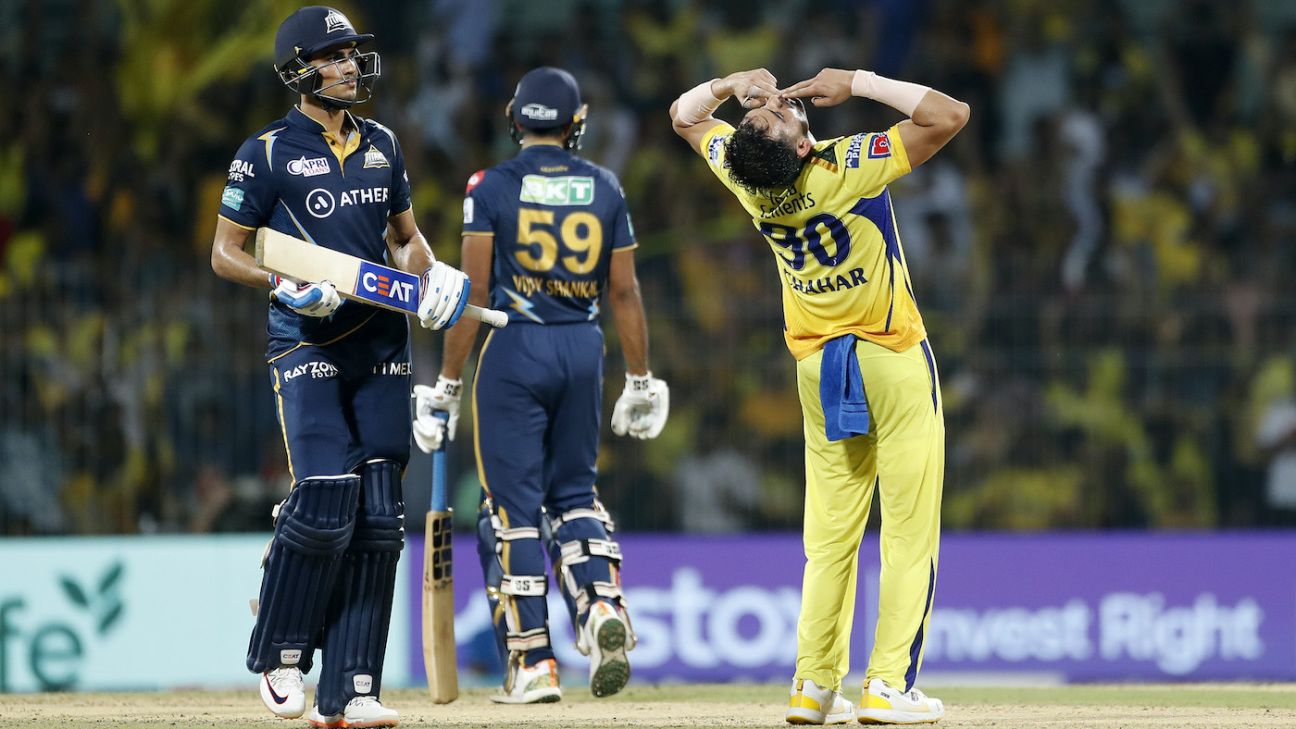 Chennai Super Kings 172 for 7 (Gaikwad 60, Conway 40, Shami 2-28) beat Gujarat Titans (Gill 42, Jadeja 2-18) by 15 runs
MS Dhoni
has led Chennai Super Kings to their tenth IPL final. He's had the whole country wrapped around his fingertips without even trying, and nights like these are the reason why. Even the umpires couldn't win against him.
He met Gujarat Titans on a pitch that he likes – the kind that used to greet international teams during his reign as India captain – and turned their comfort zone into anything but. A team that likes batting second lost for only the fourth time in 18 chases.
It really did feel like destiny was at play here. CSK's batters mis-hit a lot but they still managed 172. Their quicks then sprayed it around but those short balls down leg and wide full tosses actually got wickets. The spinners, however, were in their element with
Ravindra Jadeja
and
Maheesh Theekshana
picking up four wickets for 46 runs.
Titans aren't done, of course. They were the dominant team in the league stage, which earned them a second shot at a place in the final. They'll have to make the most of that now against either Mumbai Indians or Lucknow Super Giants in Ahmedabad.
Abraca-Jadeja
There are times when it feels like Dhoni's players become extensions of his will and there is one who knows that feeling more than most. To be fair, that implication has hurt Jadeja as much as it has helped him.
The left-arm spinner was always going to be crucial in conditions where the new ball was stopping on the pitch and the old one was keeping low. By the time he got it in his hands, it began to take appreciable amounts of turn as well.
His second wicket – that of
David Miller
– was magic. High pace. From around the wicket. Pitching on middle stump. But the angle made the batter think he had the room to whip it away. A split second later his stumps were in disarray.
This was Jadeja's eighth wicket of a left-hander, doubling his previous best in an IPL season.
Theekshana shows why
There was always a question about him in the press conferences. Why is he in the side? Why didn't they play Mitchell Santner? What is the point of a spinner who couldn't take wickets in Chennai? Well this is it.
Theekshana got rid of Hardik Pandya. At the time, it felt like the Titans captain was preparing to take the bowler on. It was his second big move, after coming out at No. 3 and hitting his first ball for four. The logic was if he could defang one of CSK's go-to men in conditions that were perfect for him that'll send a shockwave right through the team. It was a calculated risk. It didn't come off. The battle lasted three balls.
Towards the end of the game, with Dhoni working to push up the required rate, he turned to Theekshana again and he went straight through Rahul Tewatia. It was part of a period in which Titans lost four wickets for 26 runs in 24 balls.
Recovering from 98 for 6 was not possible, even with heroics from Rashid Khan.
Gill vs Conway
At the end of CSK's powerplay, Devon Conway was 14 off 11 with a control percentage of 64. Those stats combine to suggest he was trying a lot of things and very few of them were coming off. Coming down the track. Looking for those scoops. Anything. Everything. But nothing worked. He was stuck and for as long as he was so were the Super Kings. They hit no boundaries for 29 balls between the 10th and the 15th overs. Just a little after that, Conway's control percentage dipped to 50. He was playing a false shot once every two balls.
Meanwhile, Shubman Gill had unlocked batting. Even here, he played a shot that barely made sense. It was a flick, but he hit it in front of short midwicket, which meant he had to limit the amount of wrist he put into it. He had to limit the one thing that gives the shot its power and it still went screaming away to the boundary.
Dhoni knew he could not let Gill bat till the end. So he called on Matheesha Pathirana a little earlier than he usually does. And the young slinga got a bit of stage fright. His first over in his first IPL playoff match contained 10 balls, including four wides.
Gill survived so Dhoni went to plan B. If he couldn't be prised out, maybe he could be tempted. Deepak Chahar came on. And with the first ball of the 14th over – short, slow and so damn juicy – he had Titans' biggest hope caught on the long-leg boundary. Gill walked away with a control percentage in the 90s. Conway walked away with the win.
Dhoni vs the umpires
With the set batter gone, Dhoni reigned supreme. He had three overs of Pathirana left to combat Titans' finishers. And he would use them all even if it meant inviting an over-rate penalty. That's 16, 18 and 20. Only Pathirana had left the field for a while. So he couldn't bowl the 16th until he had been on the pitch for the same time he had been off. So Dhoni went to the umpires and just had a little chat, seemingly letting the clock tick on down until he could unleash his death bowler.
This is what Dhoni does. He defends totals. It's part of his mystique. Hardik actually said it best: "That's the beauty about him. With his mind and the kind of way he uses his bowlers, he will make sure you feel like he is adding 10 runs extra to the score."
That Super Kings got to 172 was down to
Ruturaj Gaikwad
and his 14th IPL half-century. He too had to struggle but whereas other batters let the pressure get to them, he keeps his composure. For example, in the fifth over, Rashid had tied him down by bowling into the wicket and at the stumps. Sensing that the batter would be looking for a release shot now, the legspinner dangled one outside off. Gaikwad went after it, as he was supposed to, but he hit it inside out over cover where there were no fielders. That is a high-quality shot in a high-pressure situation against a high-class bowler. It represented both Gaikwad's skill and his clear-headedness at the crease. CSK were very lucky he was reprieved on 2 off 6 by a no-ball.
Alagappan Muthu is a sub-editor at ESPNcricinfo