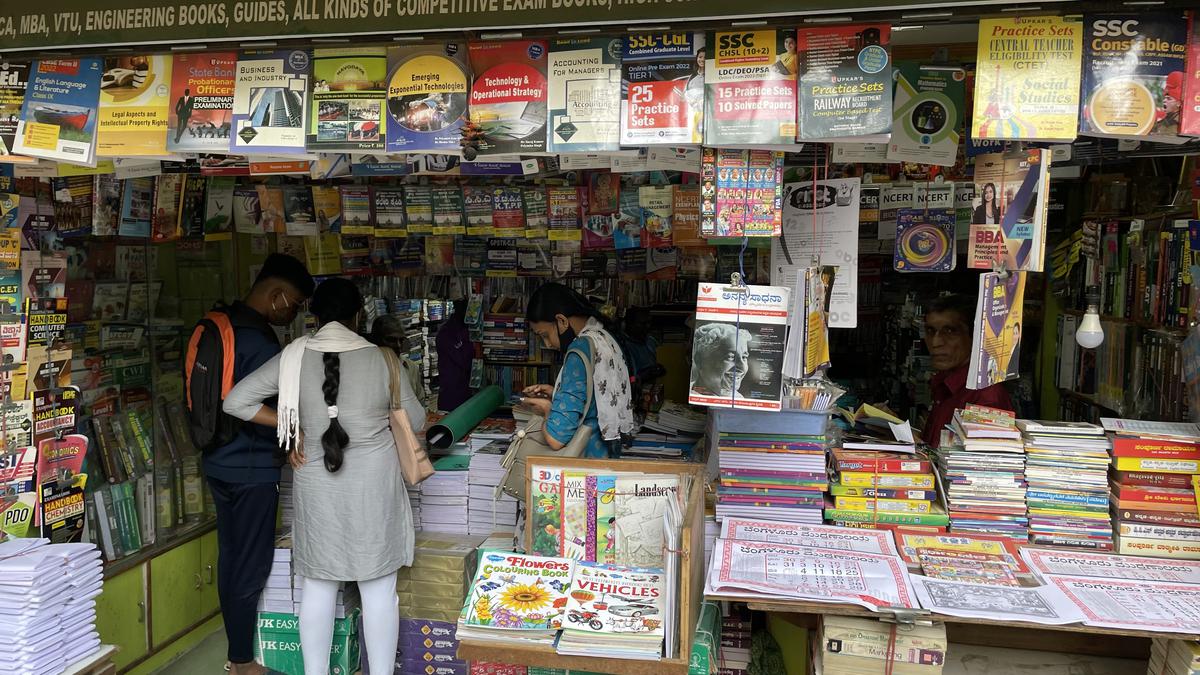 How much does it cost for a student for one academic year in a private school in the city? Currently, parents are paying anything between ₹3,000 and ₹21,000 for books and stationery kits alone, leading to outrage.
Even parents of students in kindergarten classes are being asked to pay ₹1,000-5,000 for books. At nursery schools, where there is not much scope for notebooks, parents said that the institutions had come up with their own syllabus, which would require the students to have multiple printed books.
'For uniformity'
Mamatha R., the parent of an LKG student, said, "The school has decided to distribute rhyme books, alphabet books, number books, colour pencil colouring books, crayon colouring books, a book for animals, colours, words, etc. with their branding all over them. We can buy these books outside, but the school wants to maintain uniformity among students, which has left us with no choice but to purchase the books from them for ₹1,500."
Another parent, Viju, said that a school in R.R. Nagar was charging ₹3,672 for his pre-KG child's books.
While the charges for textbooks are pre-fixed by the government, schools distribute notebooks, workbooks, and even stationery kits, which contain pens, pencils, colouring sets and much more to the students. The charges for these kits vary from class to class and school to school. According to numerous parents who spoke to The Hindu, for students in grades 5-10, the average book fees range from ₹7,000 to ₹21,000.
Cheaper elsewhere
What irks parents is that the same books and stationery can be bought outside for a much lesser price. A parent pointed out that books available for ₹200 on e-commerce websites were being sold for ₹500 at schools. It was also mentioned that some schools had asked parents to buy books only from certain e-commerce platforms.
"The school is charging an exorbitant amount for books, and it is mandatory to buy them from the school. We have already paid close to ₹8,500 for books, and on top of this, they're demanding an additional ₹1,100 for language books. If we spend the same money outside, we can buy children's books for two years at the least," said Arjun, a parent who sends his child to a private school in Banashankari.
Many private schools also have tie-ups with vendors or bookstores where parents are required to go and buy the books. Parents alleged that at these stores, the selling price for such packages is more than the MRP.  "I had to apply for leave and go to R.R. Nagar to collect my daughter's books even though her school is near BTM Layout. Earlier, they used to issue books at school only. These vending arrangements are inconvenient for working parents," said Harish C., whose daughter is in grade 5.
Need for guidelines
Parents expect some kind of regulation from the government regarding these matters. "This is an area where the government should provide guidelines. There are exorbitant prices for everything, including school fees, transportation, books," said Jayesh Mehta, another parent.
However, government officials said there was not much they could do. "The government fixes the charges for textbooks. But there is no rule or law to control the pricing of notebooks, workbooks or other books which are issued by schools. It is a contract between parents and schools. The best thing parents can do is to collectively refuse to buy these books or question the school administrations and sort out the issues," said a senior government official.
For parents, there is a fear of their children facing repercussions in case they decide to raise their voices. "If they cancel our admission when we oppose, it is difficult to find a new school for our children in the middle of the semester or just before the beginning of the school year. If the government cannot regulate this, they should at least try to put the textbooks of all boards online so that we can avoid the process of issuing books altogether," said Sharat Chandra, whose daughter studies in grade 5.