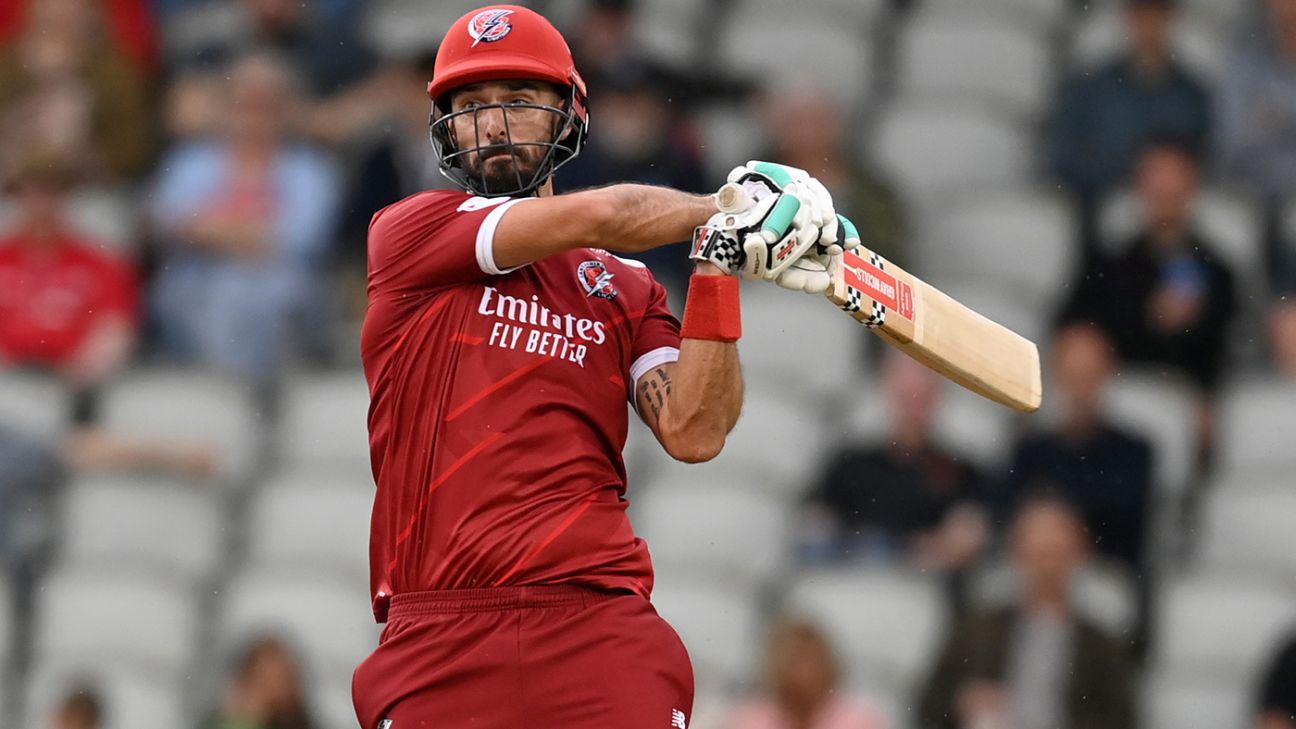 Lancashire 208 for 4 (Mitchell 85*) beat Nottinghamshire 186 for 5 (Munro 60, Wood 2-29) by 22 runs
Shaheen Shah Afridi is the glamorous signing who Nottinghamshire hope will sweep them to glory in the Vitality Blast. He still might, but his debut figures were symptomatic of a losing Nottinghamshire night as Lancashire turned in a superbly marshalled display for a third successive victory that they rarely looked likely to relinquish.
As for
Daryl Mitchell
, well, he's that New Zealand bloke isn't he, decent player, been around a while, highly respected by those in the know, three Test hundreds in a single series in England last summer, even spent a bit of his childhood in Manchester, but despite all that and more still not somebody to set the casual fan's heart racing.
But this was a night that moved to the rhythm of a steady heartbeat, a night not for the superstar, but for the largely unsung professional, or at least as unsung as 95 international appearances can be and a quietly-bult reputation as one of the most productive, adaptable players around, able to adjust his game and his role in all formats. He could be one of the overseas signings of the summer, that Manchester background ensuring that he has settled into the season with barely a second thought.
Mitchell fashioned Lancashire's progress to 208 for 4 with an unbeaten 85 from 41 balls with six sixes and then accentuated the feeling that they were strong favourites by running out Matthew Montgomery with a fast, flat throw from long-off – the fourth wicket to fall, and leaving Notts 97 short with 50 balls remaining. They never quite got on terms after that.
Mitchell is having a good summer and also made a Championship hundred against Somerset on debut. He was reprieved three times though, the first of them on 7 when he blazed the Surrey loanee, Conor McKerr through Steven Mullaney's hands at mid-on; the second, a return catch to Mullaney on 32. On both occasions, instead of a reset by carefully scratching his guard, he settled himself with a look-at-me straight six.
Three sixes against Afridi – including a startling ramp over fine leg – were later to rival such nonchalance, although he was dropped again on 79 by Lyndon James, rushing in from the cover boundary – Afridi this time the bowler to suffer.
Lancashire's opening stand was worth 56 in 5.3 overs as Phil Salt and Luke Wells made light of the absence through injury of the captain, Keaton Jennings. Salt has possessed adventure from the first time he picked up a bat; Wells, once renowned as one of the dullest Championship openers around, someone even Eastbourne, his home town, would regard as overly sedate, has reinvented himself.
It took Samit Patel to arrest Lancashire's progress. He is 38 now, and it has to be said his trousers have a bit of an overhang (his full-on Tudor house phase is only a couple of seasons away) but his bowling intelligence should never be underestimated. He doesn't bother much with flight, certainly not on a flat surface like this, but he thinks batters out. When Steven Croft sliced an innocuous delivery to backward point, it was hard to understand why, but when he bowled Salt, sneaking below his attempted pull, he skidded one on with a perfect line.
Liam Livingstone is Lancashire's stand-in captain – Dane Vilas can't get in the side, largely because of the presence of Mitchell, who fulfils a similar role – and he bore his responsibility gravely, taking 18 over his first 18 balls as Mitchell cut loose. He became Afridi's only wicket of the night, but only after he had peppered the new hotel, which is scheduled to be completed in time for the Ashes Test, with two monumental midwicket sixes, the second of them given a nod of appreciation by a steward in a white crash hat.
There was a time when blows like this would have sailed out of the ground; now they are destined to bash into a shatter-proof window as somebody orders room service.
If Lancashire had begun in domineering fashion, Nottinghamshire replied disastrously as
Luke Wood
reminded his former county of his talent. He yorked Alex Hales with an exceptional inswinger in his first over: Afridi would have been proud of it and you can't say much better than that. Then in his next over, outdid Joe Clarke with a short ball which was miscued to midwicket.
Colin Munro, in at three, was more of a threat, packing five sixes into his 60 from 29 balls. Lancashire preferred Wells' legspin to Matt Parkinson – Parkinson's career appears to be at a slightly rocky juncture – and the move came off when Munro tried to hit Wells over long-on and skied a top-edge to the wicketkeeper.
Lancashire and Nottinghamshire have won more T20 matches than any other counties – this win, statisticians told, taking Lancashire 138 – 137 ahead. It would be no surprise to find either of them at another Finals Day, but it is Lancashire, beaten finalists last year in that frantic finale against Hampshire, who must be brimming with confidence.
A Blast summer in which there is no clash with England's white-ball internationals gives them the mouthwatering prospect of Livingstone and Jos Buttler in alliance throughout next month. Not forgetting the contributions from Daryl Mitchell, naturally. Late-developer Mitchell: a player to be reckoned with.
David Hopps writes on county cricket for ESPNcricinfo @davidkhopps