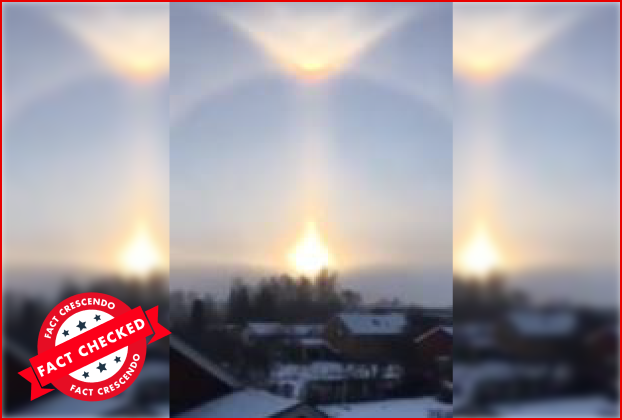 Currently, a video of a beautiful sunrise-like visual is going viral on social media. Many users shared this video claiming that this is a rare scene that sometimes takes place in the Himalayas when sun rises at 3.30 in the morning. 
However, Fact Crescendo found the claim to be false. This is not a visual from the Himalayas but from Sweden. 
What's The Claim? 
Sharing the video, social media users are claiming that, "This is a rare beautiful scene which is also known as Manidharshan when sun rises at the Himalayas at 3.30 in the morning. People also named this phenomenon as Wardhaman. This is also known as Lord Shiva's Vishwaswaroopa Darshan"
Fact Check- 
A Google Keyword Search led us to the same video uploaded on YouTube in 2019. It was mentioned in the description section that this is a natural phenomenon called Perihelion or Sundog. This phenomenon takes place when it is extremely cold and both the sun and the moon's halos are visible. This takes place in Sweden. 
Further, we also found a report on a similar incident by Independent news portal in 2017. According to the report, this is a rare weather phenomenon called Sun Halo spotted in Sweden. The halos occur when sunlight refracts through a high band of cirrus clouds more than 20,000 feet above the ground.
An explanation of this phenomenon was later released by Nasa. Nasa explained that there are millions of ice crystals that formed after water freezes in the atmosphere. These crystals are very tiny and have six sides. While falling to the ground for some time, the face of these crystals remain flat and parallel to the ground. During this time, these crystals act as miniature lenses that refract sunlight during sunrise and sunset and create this phenomenon which is visible to people. This  phenomenon has been termed as Parhelia or Sundogs. 
It was also mentioned in the website that the video was taken in Sweden. In the middle, a direct image of the Sun is visible, while two bright Sundogs can be seen glowing on the left and right side. 
In the Alamy website, we found the Sundog phenomenon taking place in Canada, UK, and in many other places. 
Conclusion: 
Fact Crescendo found the claim to be false. A video of a rare phenomenon known as Sundogs in Sweden viral as a recent visual of Manidarshan in the Himalayas. 

Title:Is this a video of a rare scene of sunrise in the Himalayas? Know the truth.
Written By: Siddharth Sahu 
Result: False