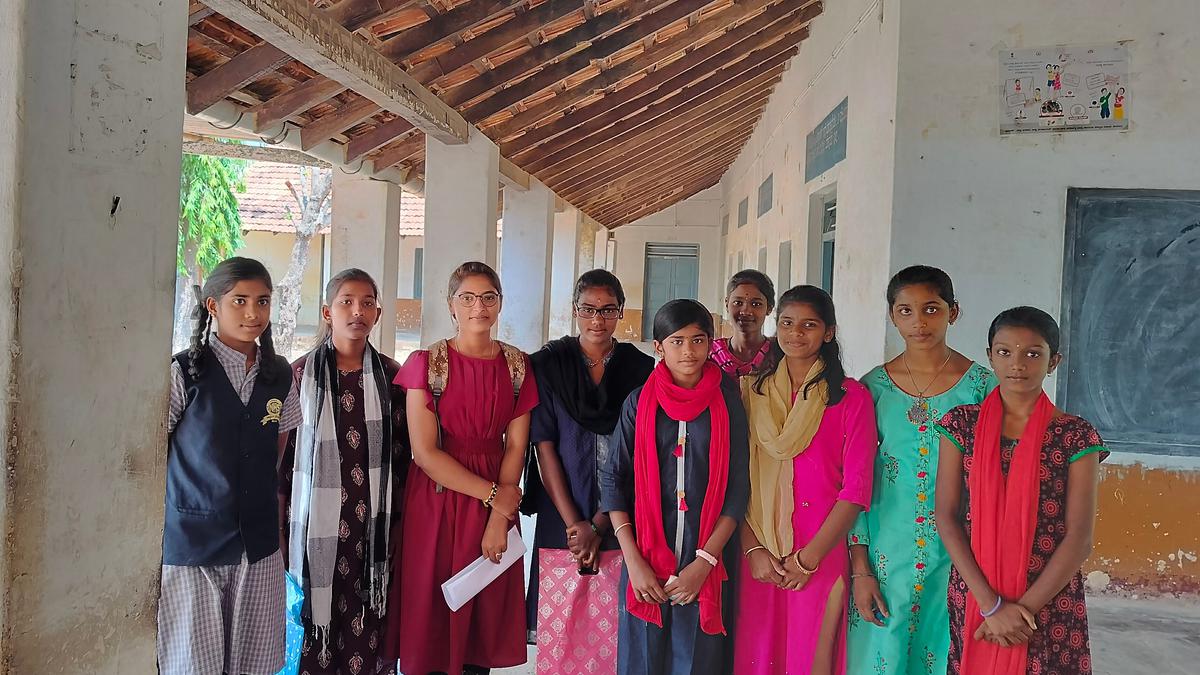 Divya R., a resident of Chikkamarasa village in Shivamogga taluk, has walked for about 6 km every day to attend classes at National High School, a government-aided school, in Kumsi village to complete high school. Now, after completing her SSLC, Divya is joining a pre-university college in Kumsi, and she has to continue to walk to reach college.
"Except for a bus that reaches the village at 6 p.m., we have no public transport facility", said Divya on Monday. She was at her school on the day when the school reopened for the current academic year to collect her transfer certificate to join the college. 
No bicycle
Every day, Divya and 10 other students walk to school. "We normally leave the village by 9 a.m. to reach the school by 10 a.m." Again, we walk back in a group in the evening. Many times, we are struck by heavy rains," she said. Her village has only a lower primary school, where children can study up to Class 5. Earlier, the government provided bicycles for high school students. The scheme was stopped three years ago. "We did not get the bicycles, which would have helped us reach school," added Divya.
Another group of students from Doddamatti, also a remote village in Shivamogga taluk, reach school by walking for about 6 km on each side every day. "Students of Doddamatti walk for about 10–12 km a day. A majority of them have joined the hostel due to the distance from the school," said Y. Prahlad, Headmaster of the school. Of the 110 students enrolled in the school, more than 35 come from villages with no transport facilities, he added.
Similarly, students from Balekoppa, Hubbanahalli, Marasa and a few other villages travel every day to reach the school at Kumsi. Even after repeated demands from the students, their parents, and the public, the government has not provided them with proper transportation services. 
Ajay Rao K.B., a Class 6 student in the Government Higher Primary School at Kumsi, said sometimes his uncle drops him off at school in the morning, but in the evening he has to walk back with his classmates. "Pooja, Sara, Preetham, Prakruthi, and Chaya also walk with me from Chikkamarasa village to the school. During the rainy season, we carry an umbrella. I don't know how many more years we should continue like this," he said. He was engaged in cleaning the classrooms along with his friends on the first day, Monday. "Classes will start regularly on May 31. We are cleaning the classrooms and school premises, to welcome students on May 31," said Poornima Varnekar, Headmistress of the school. 
Education Minister
Many villages in Sagar, Thirthahalli, Soraba, Shikaripur have no access to public transport. A majority of students depend on private vehicles to reach school. Residents of Kanasinakatte in Bhadravathi taluk boycotted the recent Assembly elections, citing the lack of bus facilities. "Minister for Education Madhu Bangarappa is from our district. I hope he understands the problems faced by students in his district and ensures villages get proper transport facilities," said Nagaraj H., a resident of Ayanur.
When private schools can offer bus services to remote villages to pick up and drop students, why can't the government have a similar system to strengthen government schools, asked Chandrashekhar, a resident of Kumsi. "Private schools work out a route plan for their school buses, considering the students' residential location. If buses reach villages, along with students, people will also benefit," he added.