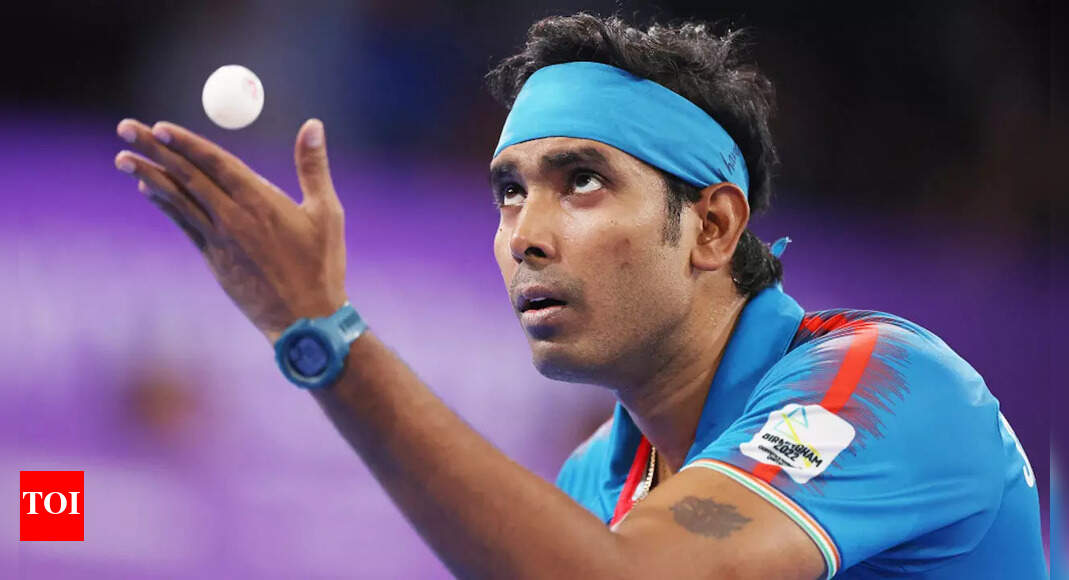 NEW DELHI: Star Indian paddler Achanta Sharath Kamal has revealed that preparations for the upcoming Paris Olympics will commence with the fourth season of Ultimate Table Tennis, scheduled to take place in Pune from July 13 to July 30.
Sharath expressed that while preparations for the Hangzhou Asian Games, set to be held from September 23 to October 8, are in their final stages, the primary focus will be on the ultimate goal of performing well at the 2024 Paris Olympics.
By prioritising the Paris Games, Sharath Kamal highlights the significance of this prestigious event in the table tennis calendar. This approach signifies the long-term planning and dedication required to compete at the highest level on the international stage.
The upcoming season of Ultimate Table Tennis will serve as a valuable platform for sharpening skills, gaining match practice, and preparing for the Paris Olympics.
As an accomplished player, Sharath Kamal's strategic focus on major events demonstrates his determination to excel and achieve success for himself and the Indian table tennis team.
"Asian Games is the immediate target but the main goal for Team India is the Paris Olympics. When UTT starts, the countdown would be down to 12 months, for me personally that's when the preparation starts," Sharath told reporters in Mumbai on the sidelines of the player draft for UTT season 4 on Friday.
"As for the Asian Games, we are already into the final leg, the preparation is done with. We just have to get into the best physical and mental shape. As on the preparation front, UTT will help us start the preparation for the Olympic Games," he added.
He said the strong performance by the Indians in the last Asian Games, held in Indonesia in 2018, will give them confidence going into this edition in China. India won a bronze medal each in the men's team event — of which Sharath was a part — and mixed doubles (Sharath pairing with Manika Batra).
"The Asian Games competition is as tough as the Olympics. When we won the medals last time, it gave the confidence that if we can do it here, we can certainly win an Olympic medal. I think the preparations are on course and we hope to add to those two bronze medals," he said.
While the third season of the UTT was held in 2019, the fourth season is back this year and Sharath hoped that his side Chennai Lions are able to replicate their winning performance this year too.
"(The) season three was very good. Not just because my team Chennai Lions won it but also because the format was very interesting. The kind of following table tennis had that particular season showed we were growing as a sport. And the Indian team's performances kept on improving in that period," he said.
"I am looking forward to this season creating the same buzz, not just with the players but also with the spectators, people who engage with the sport and with the youngsters who pick table tennis either as a hobby or a competitive activity. For all of them, UTT season 4 will be fantastic."
Talking about how the six teams are placed ahead of UTT season 4, Sharath said all sides look balanced and it will be important to play better on the given day.
"The teams are well-balanced. It is going to be decided on which team has the better team spirit and perform on that particular day. Each team has strong players, so the competition will be tough. The format also makes the matches tight. We will have to rise up to the occasion if we are to defend the title," he said.
Sharath said sharing knowledge and overall experience of playing with overseas players will continue to hold the Indian players in good stead.
"More than a particular tournament, UTT gives a lot of confidence when we train with them, play against and more importantly, beat them here. When we play overseas, we still carry that confidence of being able to compete against the best," he said.
(With PTI inputs)