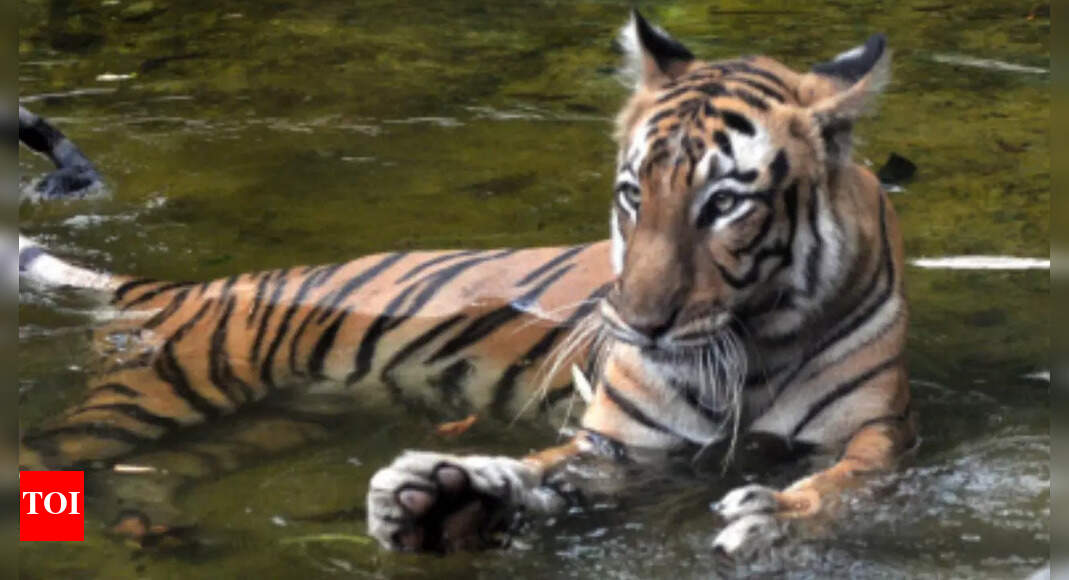 Chandra Prakash Goyal, director general of
forests
and
special secretary
,
Union environment ministry
, discusses
population management
of tigers in India and the rising human-tiger conflict. Excerpts..
Is there a carrying capacity for the country's tiger habitats? How many are too many?
In all ecological systems, every species has a carrying capacity. This is determined through a scientific exercise. If tiger numbers cross the threshold that a reserve can support, then they tend to disperse. If no suitable habitat is
available for expansion, then the species may experience a decline in birth rate and a rise in mortality rate, thereby bringing their numbers below the threshold.
The National Tiger Conservation Authority (NTCA) has been implementing the All-India Tiger Estimation exercise since 2006, and a prey-based carrying capacity equation for tigers has been developed. The upper limits of tiger densities in dry deciduous forests of central India were estimated between 6 and 10 tigers per 100 sq km. North-central Western Ghats recorded the highest tiger densities of 7-11 tigers. Southern Western Ghats consistently recorded lower densities of 2-3 tigers per 100 sq km, and Sundarbans seems to have carrying capacity of 4 tigers per 100 sq km.
What should be done to prevent man-animal conflicts?
With the ever-growing human population — perhaps the only species over which nature seems to have no control — conflict with wildlife is bound to increase due to competition for resources and space. However, conflict can be managed by employing a multi-pronged response — monitoring with the help of technology, capture and rehabilitation of problematic animals, and swift compensation for loss of human life, and property.
We need to invest in building the capacity of forest forces across the country, equip them with tools to manage conflicts, and put in place a efficient compensation disbursal mechanism. The people who live in proximity or inside our forests also need to be made aware of the aspects of protecting themselves from wildlife as well as protecting wildlife itself.
Human-tiger conflict seems to be rising in certain areas. How to manage this?
India has 53 tiger reserves, and human-tiger conflict seems to be highly localized to a few places, such as Chandrapur in Maharashtra, which recorded the most such incidents. There is a need to understand the causes of human-tiger conflicts based on scientific and empirical methods.
Will there ever be a need to manage wild tiger populations through capture and sterilization?
There is already a provision to capture problematic tigers. Healthy tigers can be released in low-density tiger reserve after radio-collaring. The NTCA has an SOP to deal with tigers that stray into human landscapes. If a tiger or leopard becomes 'dangerous to human life', then there is provision to eliminate them. Both strategies are in use. There is not much scientific evidence on sterilization, and I do not think it is an appropriate time to use sterilization as an option for managing wildlife.
Can walls and fences around tiger areas reduce conflict?
They may have a very limited scope. In fact, fences and walls around tiger reserves may impede the gene flow
and movement of wildlife. The best option is coexistence, where wildlife and human beings have their own spaces, with minimal interaction. We have been lauded by international conservationists for not restricting wildlife inside artificial walls and fences. We have been coexisting with wildlife since time immemorial, and this highlights the psychological commitment towards protection of wildlife.
Do the current schemes encourage voluntary relocation of villages from protected areas?
Given the size of the population in our forests, there is scope for voluntary relocation of villages. Earlier, the financial package was Rs10 lakh per family, which has been enhanced to Rs15 lakh. States like Maharashtra give more incentives. Of course, there is always scope for improvement.
How can NTCA improve connectivity between tiger populations?
Based on data from tiger estimation exercises, NTCA has delineated tiger corridors. We hope to come out with countrywide corridor maps for other species as well. They will help safeguard wildlife whenever development projects come up. Though corridors do not have any special status legally, we manage them through the Corridor Plan and mitigation measures. Wildlife conservation is rooted in our cultural and religious ethos, our conservation efforts have yielded extremely good results, so India will continue to be a leader in wildlife conservation and guide the world.