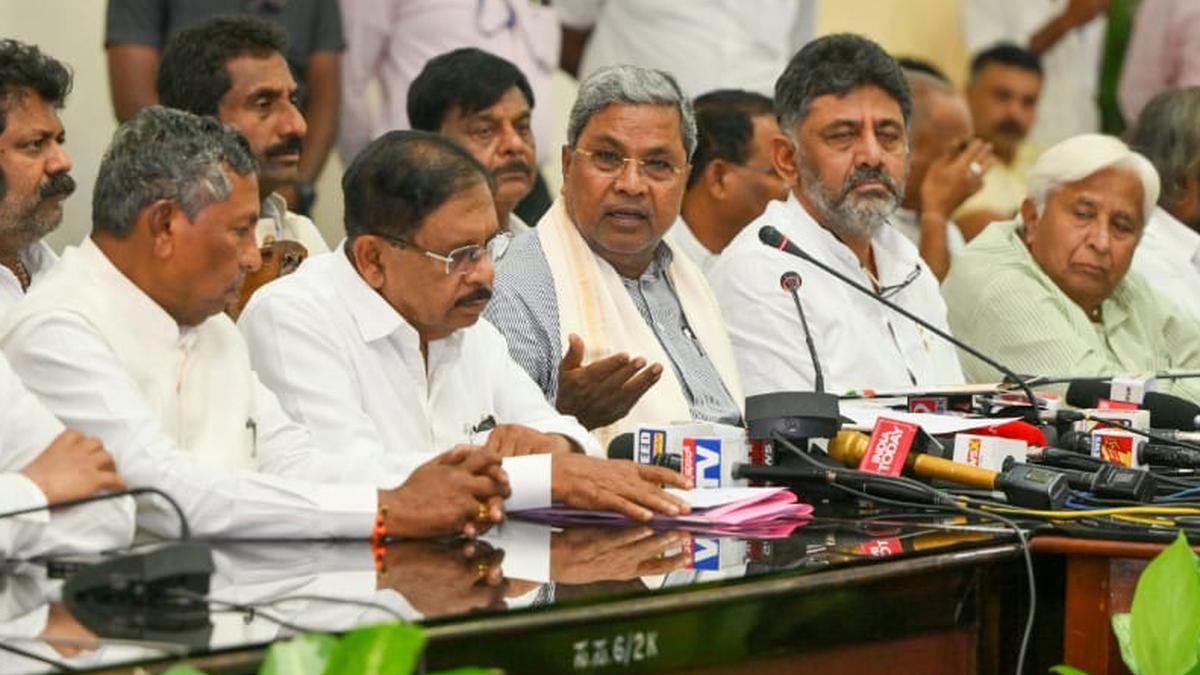 The five guarantees given by the Congress, which are to be implemented in phases starting from June 11 with the launch of Shakti scheme, are expected to cost around ₹60,000 crore annually, and the guidelines for implementing the schemes are expected to be released shortly. Each of the scheme launch at public functions is expected to be a big fanfare event.
The cost break-up
While Chief Minister Siddaramaiah refused to divulge the cost of implementing the schemes, government sources aware of the developments said the cost could be around ₹60,000 crore with Gruha Lakshmi scheme, in which a monthly incentive of ₹2,000 will be given to women kartha, alone estimated to cost ₹39,000 crore a year as women from both APL and BPL families are eligible to seek benefits. "The financial incentive for women is expected to be a game changer in the BPL families, providing them a huge relief," a senior Cabinet Minister said.
The Anna Bhagya scheme, which has doubled the quota of foodgrains from 5 kg to 10 kg per head in families holding BPL and Antyodaya cards, is estimated to cost ₹9,800 crore annually. According to sources, the Yuva Nidhi unemployment benefit scheme for fresh graduates and diploma holders is estimated to cost about ₹1,274 crore per year that has been calculated on the basis of around 4.7 lakh graduates and about 50,000 diploma holders passing in 2022-2023 academic year. The Shakti scheme has been calculated to cost around ₹4,800 crore annually.
While the Energy Department estimated that the Gruha Jyothi scheme for APL and BPL families if both fixed meter charges and consumption is considered could be around ₹12,000 crore, the consumption alone would come to around ₹8,700 crore. The Gruha Jyothi scheme sticks to free 200 units of power, which is being implemented now.
In Karnataka, 89% of the domestic power consumption consumed an average of 53 units monthly, another senior Minister pointed out. "The 12-month average plus 10% has been given to prevent misuse," the Minister said. Another source said that those exceeding 200 units of consumption will have to pay the full bill and those families exceeding their average plus 10% but remain within the 200 units band will have to pay the difference between the actual consumed and the calculated average plus 10%.
How much families will save
"As per a calculation, a BPL family getting most of the benefits could end up saving between ₹8,000 and ₹10,000 a month. The money will come back to the economy," sources said, adding that the full-fledged Budget in July would provide more accurate estimates. "The previous BJP government has taken a vote of account till June."