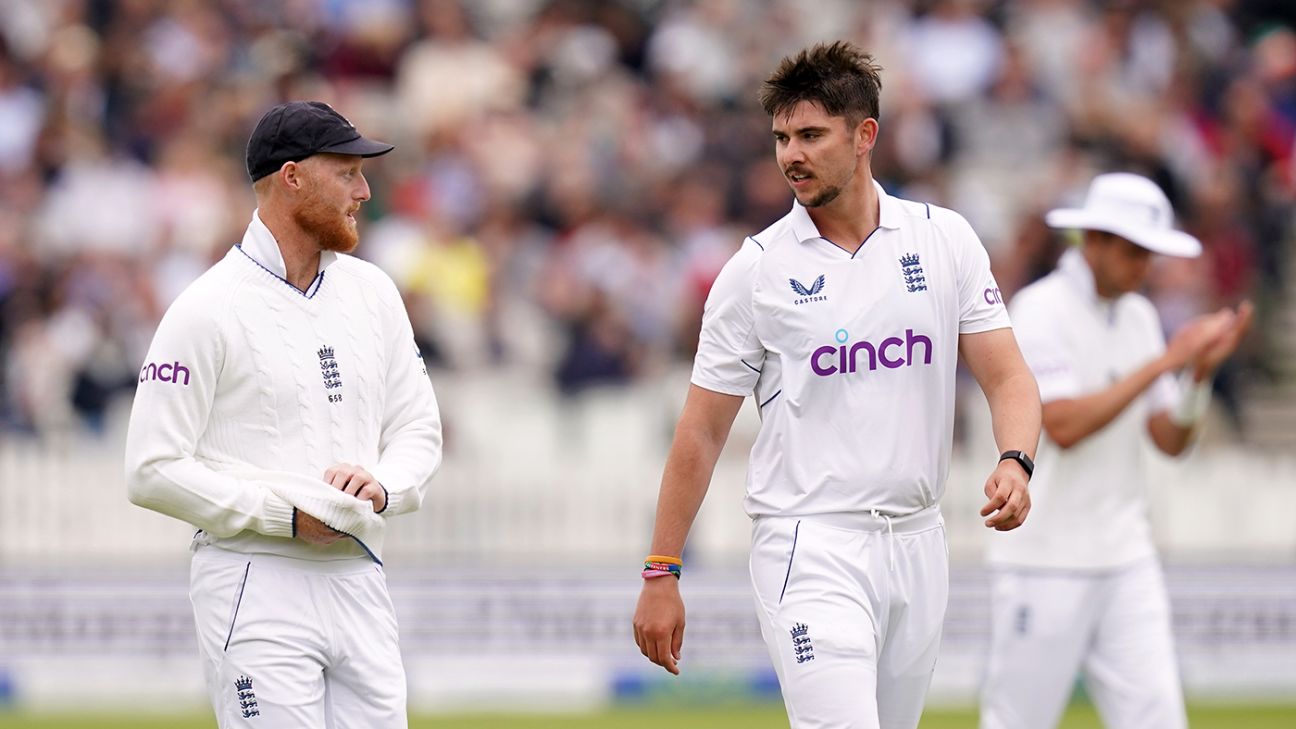 Ben Stokes
met
Josh Tongue
for the first time when the England squad gathered in London on Monday ahead of this one-off Test against Ireland. Less than a week on, Tongue has imprinted himself as permanently on his skipper's heart as on the Lord's honours board.
With five for 66 in the second innings to confirm a victory that required far more of day three than anticipated, the 25-year-old Tongue has seemingly settled a developing headache for England.
Jofra Archer
has been ruled out of any involvement in the Ashes,
Olly Stone
is unlikely to feature either, and
Mark Wood
certainly can't fulfil the fire-breathing role for all five Tests on his own. Just when it looked like England were a speedster light, another came to the fore.
Mayday calls to county cricket for emergency fast bowlers rarely get answered as quickly or effectively. Yet the Worcestershire seamer was not only a point of difference on his England debut, but seamlessly slipped into the various roles his captain requested.
"He must think I'm a pretty good bloke giving him his Test debut," Stokes joked, speaking after he had led the team to an 11th win in 13 Tests. The sentiment is clearly reciprocated because of Tongue's expertise and enthusiasm.
"I told him the role that I saw him playing in this team as our third seamer, and used him in a way to get different types of spells out of one bowler," Stokes added.
"His first spell, he came on and bowled really well pitching the ball up. Then we looked to use his pace to use him as the aggressor when we needed to and the wicket got a bit flat. For him to show he's more than one type of bowler does us the world of good as a team going forward, knowing we've found someone else who can fulfil the role of the guys with the extra pace."
There was durability, too – a characteristic Stokes admires in others, even if his own is under the spotlight because of
chronic issues with his left knee
. That Tongue maintained his speeds not just over two innings but also long spells surprised the captain.
Over the final 24 hours of this match, there were eight overs straight (taking 3 for 27) on Friday evening, before seven- (1 for 29) and six-over stints (1 for 10) across Saturday, and that is a testament to Tongue's journey to this call-up. This time last year, he was contemplating retirement after 15 months on the sidelines because of
thoracic outlet syndrome in his right shoulder
.
"Bowling the long spell yesterday and two long spells today, I wasn't quite sure of how to manage him so early on," said Stokes. "But I was very, very impressed with the way he just said yes to the plans I wanted him to operate under."
Having toured with the England Lions at the start of the year –
taking five on debut no less
, against Sri Lanka A – Tongue returned knowing Test cricket was within reach. It helped, too, that Rob Key was watching that performance in Galle, having presented Tongue with his Lions cap.
The managing director was no doubt pivotal in stating Tongue's case around the selection table, particularly when it became apparent that England needed to cover the absences of Anderson, Wood and
Ollie Robinson
. Key's opinion, along with that of ECB performance director Mo Bobat who coached the Lions, would have ensured the seamer was not judged solely on a rather unspectacular haul of 11 Division Two wickets at an average of 41.45 in the County Championship this season.
During those four Championship appearances, there was a sense from some at Worcestershire that Tongue was trying a bit too hard to push on to the next level, delivering a few more boundary balls than he ordinarily have done. Nevertheless, there were sound spells in that period too, including trapping Steven Smith lbw in the
Australian's first match of his Sussex stint.
Of course, that's not the sole reason he was included for the
Ashes squad for the first two Tests
. But it does back up what many who have seen Tongue develop into this strapping, 6'4″ quick – he has a knack of getting out good players.
You could perhaps put
Harry Tector
in that bracket, though the Irishman's demise was squarely his own fault. A fourth half-century had been bagged before Tector slapped a long-hop to backward point, where Harry Brook took the catch. Similarly, Fionn Hand was culpable for his demise – Tongue's fifth – with exactly the kind of flash to second slip you would expect from a No.10 batter.
But Tongue's opening burst on Friday evening for his first three wickets was proper, and in many ways the perfect distillation of what he offers. As were the 13 overs, 0 for 40, on day one, which was the prologue to him raising the ball to all sides of the ground on Saturday.
"He was very unlucky not to get a wicket in the first innings but he definitely reaped the rewards [in the second]," Stokes said. "The way he bowled contributed to the five wickets he got in that innings because they were already on the back foot against him, knowing he's got that extra bit of pace. He can bowl 90mph full and short, so he was sort of one step ahead in the second innings already because of how he bowled in the first innings."
Ahead of that maiden spell, Stokes had taken it upon himself to strip away as much of the occasion as possible, once James Anderson had presented Tongue his cap. It was only when Tongue came onto bowl after 10 overs on day one that there was anything akin to a pep talk.
"I kept it simple," Stokes said. "I told him to just run in and do what you do – and then I'll worry about the rest of the stuff. Let the lad go out and bowl in the way that's got him here in the first place."
By all accounts, he did not seem daunted by coming into a side on such a high. Vice-captain Ollie Pope remarked on Friday that it had not looked like Tongue was around the squad for the first time. On personality as well as skill, he has fitted into the dressing-room.
"Everyone is real easy to get on with and I guess it helps someone like that, who no doubt would have been quite nervous and anxious about being in his first dressing-room as an England player for the first time," Pope said.
And now it's official. It won't be the last time he sets foot in that dressing-room, certainly not this summer. Having grasped an unlikely opportunity on and off the field, it seems Tongue has banked at least two Ashes Tests.
Vithushan Ehantharajah is an associate editor at ESPNcricinfo