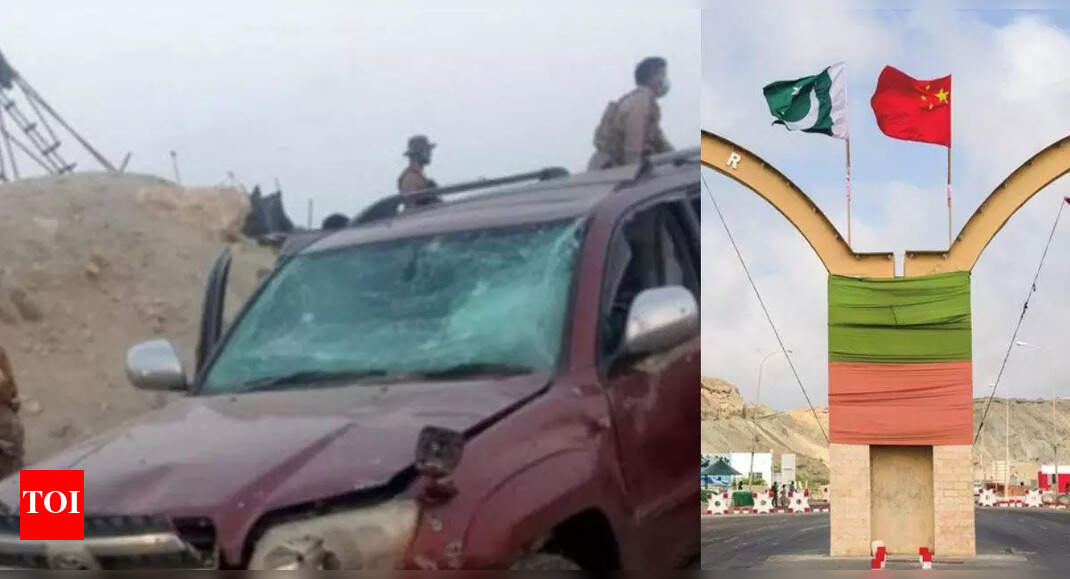 NEW DELHI: A seven-vehicle convoy carrying 23 Chinese engineers to the Beijing-financed Gwadar Port in
Pakistan
's southwest came under attack from the Balochistan Liberation Army (BLA) separatists on Sunday.
Chinese engineers attacked near Pakistan's Gwadar Port, 1 terrorist killed
The ambush took place around 9.30am and lasted for over 2 hours.
Explosions and gunfire could be heard across the port city of Gwadar, where all roads remain closed for traffic.
"BLA Majeed Brigade today targeted a convoy of Chinese engineers in Gwadar," the separatist group said in a statement, adding that two of their 'fidayeen' fighters were involved in the attack.
Chinese consulates issue advisory
No injuries were reported within the convoy, China's Global Times said, citing unidentified "Chinese personnel" in Gwadar.
The Chinese engineers were travelling in bulletproof vehicles.
Meanwhile, Chinese consulates in Pakistan have issued orders for its citizens in Balochistan and Sindh to remain inside their residences till further orders.
'1 terrorist killed'
Security sources confirmed an attack, but there was no immediate official response.
Sarfaraz Ahmed Bugti, a senator and former provincial interior minister, also said on X (formerly Twitter) that no Chinese nationals were killed in the attack.
"I strongly condemn the heinous terror attack on Chinese workers convoy in Gwadar … Thankfully, no loss of life happened, but there are reports that the ambush has been repulsed and the attackers have been killed," he said.
State Radio Pakistan, citing the military's public relations wing, said the situation was under control. "One terrorist was killed and three others injured in exchange of fire between security forces and terrorists in Gwadar," it said.
Not the first time
Various Baloch militant groups have claimed attacks on projects linked to the China-Pakistan Economic Corridor (CPEC) project in the past, with thousands of security personnel deployed to counter threats against Beijing's interests.
Three Chinese academics and their Pakistani driver were killed when a woman suicide bomber detonated her device as they were driving into the University of Karachi's Confucius Institute in April 2022. The BLA claimed responsibility for that attack.
A year earlier, five people were killed in an attack claimed by Pakistan's Taliban at a luxury hotel hosting the Chinese ambassador in Quetta.
Also in 2021, 12 people — including nine Chinese workers — were killed by a blast aboard a bus carrying staff to the Dasu dam site.
Balochistan is Pakistan's least populous province but rich in mineral resources.
Baloch people have long complained they do not get a fair share of the province's profits, giving rise to more than a dozen separatist groups.
The CPEC project is the cornerstone of Beijing's massive Belt and Road Initiative and seeks to link China's western Xinjiang province to Gwadar port in the southwest.
Since its initiation, CPEC has seen tens of billions of dollars funnelled into massive transport, energy and infrastructure projects.
Chinese Vice Premier He Lifeng was in the Pakistan capital last month to mark the 10th anniversary of the project.
(With inputs from agencies)