A video is viral on social media which shows several cars in a narrow lane. A group of policemen can be seen escorting two women to one of the cars with 'Deputy Magistrate, Haryana Government' written on it. A cop hits the women with a baton. The video is being circulated in connection with the recent communal clashes in Nuh. Many users have promoted the video claiming that after curfew was imposed in Nuh, police were dragging women out of their homes.
National president of Nationalist Democratic Forum Shrikant Tyagi shared the video as scenes from Haryana's Nuh. (Archived link)
महिला सशक्तिकरण की बात करने वाली भाजपा के शासित राज्य मणिपुर के बाद अब हरियाणा में भाजपा की कथनी व करनी को हरियाणा राज्य स्थित नूँह मेवात में लागू कर्फ़्यू में भाजपा की पुलिस द्वारा महिलाओं पर लाठी डंडे का बल प्रयोग कर भाजपा की सच्चाई देश की जानता को सामने प्रत्यक्ष रूप से… pic.twitter.com/gqDcdTV1bx

— Shrikant Tyagi (@mshrikanttyagi) August 11, 2023
Twitter user 'Randomsena' also tweeted this video and linked it to the communal violence in Nuh. (archive link) (Archived link)
AIMIM national spokesperson Waris Pathan tweeted the footage and asked, "What gave these policemen the right to attack these women in this way? When will a strict law be made against policemen like these?" (Archived link)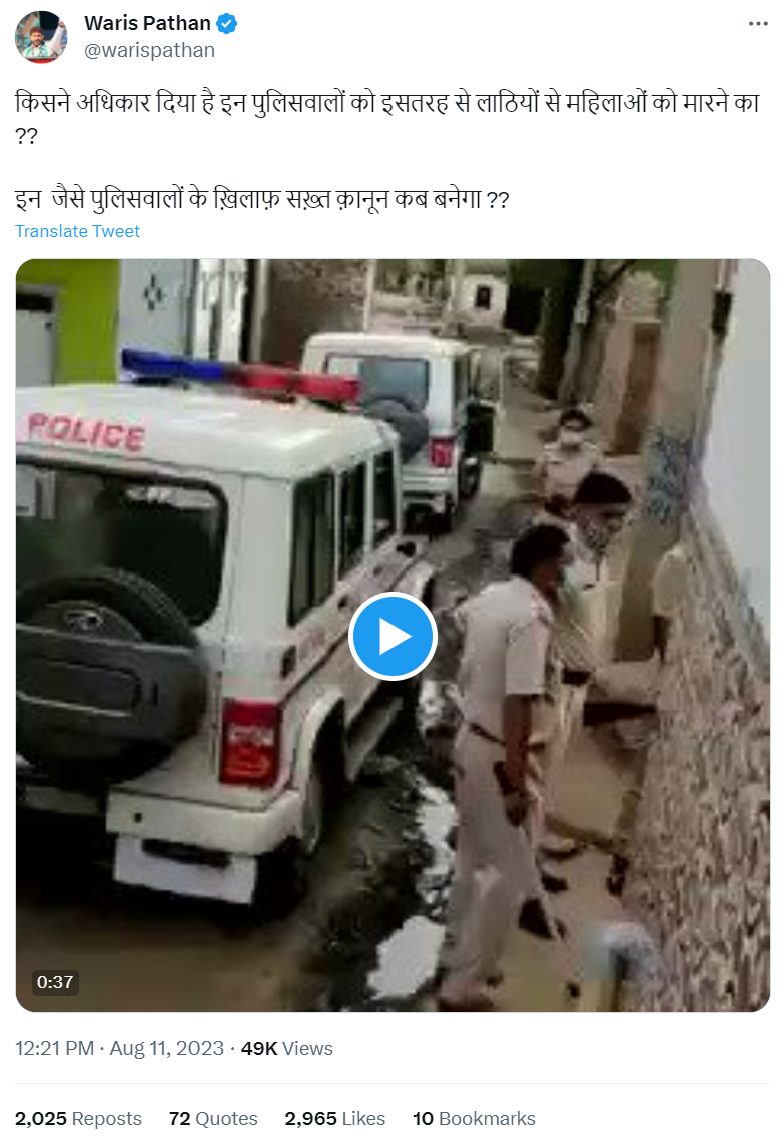 Similarly, many other users shared this video by linking it to the communal violence in Haryana's Nuh. Alt News received several requests on its WhatApp helpline to verify the video.
Fact Check
While analyzing the video, we noticed that all the policemen are wearing masks. We also discovered that many users had written on social media that this was an old video from Palwal. We performed a keyword search using this information and found the clip in a April 24, 2020 tweet by a user named Mohammad Khalid. While sharing the video, the user wrote that this was an incident from the Utwar village in Palwal district of Haryana. Although Alt News has not been able to verify the location of the incident, it is clear that the video is at least three-year old, and it has nothing to do with the recent communal violence in Haryana's Nuh.
@mlkhattar @Dchautala @HumanRightsJus3 सर ये मामला गांव Uttawar जिला पलवल का है आपसे अनुरोध है इस पुलिसवाले के खिलाफ सख्त कार्रवाई करने की कोशिश करें इस तरह के बर्ताव से शांति भंग हो सकती है महिलाओं के प्रति इस तरह का बर्ताव बिल्कुल भी बर्दाश्त नहीं किया जाएगा pic.twitter.com/26t70UysY7

— Mohd Khalid (@MohdKhalidmeo) April 24, 2020
To sum it up, several politicians and social media users shared a three year old video falsely linking it to the recent communal violence in Nuh, Haryana.
Donate to Alt News!
Independent journalism that speaks truth to power and is free of corporate and political control is possible only when people start contributing towards the same. Please consider donating towards this endeavour to fight fake news and misinformation.
Related