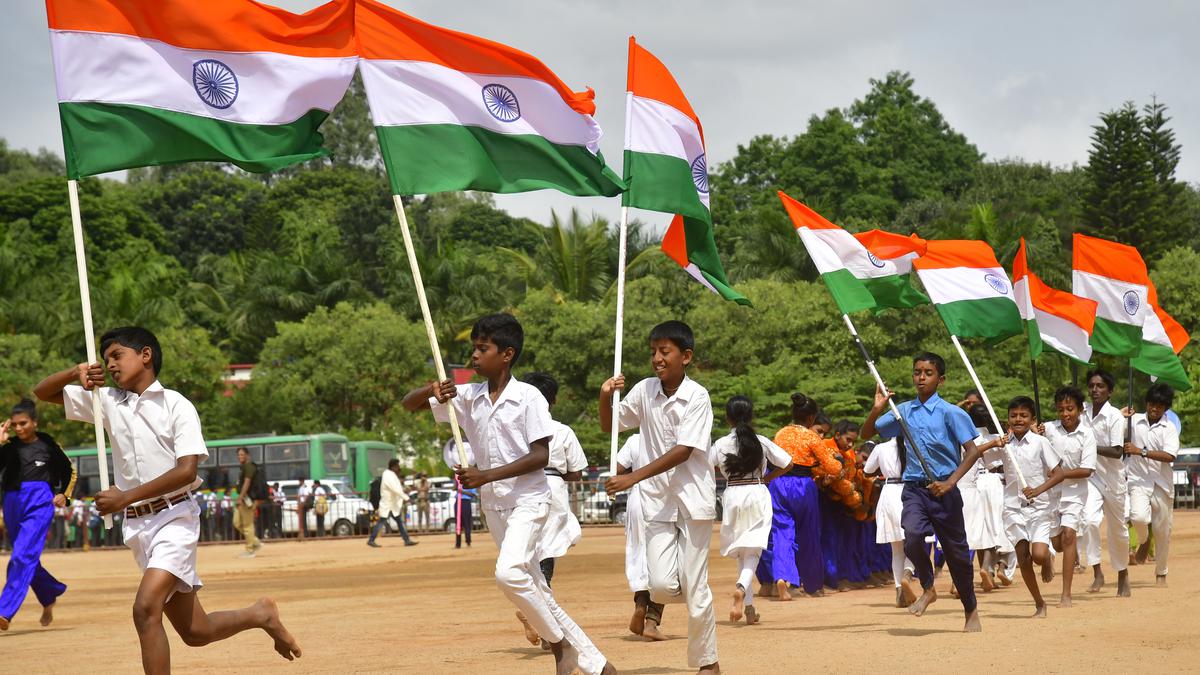 1. Amidst all the activities surrounding the Chandrayaan-3, the Indian Space Research Organisation (ISRO) is gearing up for another launch. This time it is to study the Sun. Aditya-L1, the first space-based Indian observatory to study the Sun, is getting ready for the launch.
2. Preparations are on for Independence Day tomorrow. Some organisations are starting special events today. Centre of Indian Trade Unions, Bangalore South District Committee, is celebrating Independence Day, with writer Baraguru Ramachandrappa inaugurating, at 7 p.m. M.S. Meenakshi Sundaram, CITU, State General Secretary, will unfurl the flag at 12 midnight in front of Town Hall, J.C. Road. A forum fighting for land rights for deprived communities is marking the day with a two-day fast starting today in support of their demand at Freedom Park. Jyoti Nivas College Autonomous, Bengaluru, is organising a programme to commemorate India's Independence today. Air Marshal H.B. Rajaram (retd), president of Air Force Association (K), Headquarters Training Command IAF, will be among the guests at the Jyoti Auditorium, College premises, 5th Block, Koramangala, Hosur Road, from 11.15 a.m.
3. One more case has been slapped on actor Upendra under Atrocities Act for his allegedly castist remarks in the course of a social media live interaction.
4. Children of India Foundation, Terre des hommes, and Ananya Education Foundation and Employment Trust, are jointly organizing a multi-stakeholder consultation on preventing and responding to online child sexual exploitation. Dr. K. Naganagowda, Chairperson of Karnataka State Commission for Protection of Child Rights, will inaugurate the programme to be held in Hotel Parag, Raj Bhavan Road, from 10.30 a.m. onwards.
From north Karnataka
1. Minister for Rural Development and Panchayat Raj and Kalaburagi in-charge Priyank Kharge will launch Police Feedback App in the office of Superintendent of Police in Kalaburagi at 12.30 pm.
2. Jewargi MLA Ajay Singh will take charge of Kalyana Karnataka Region Development Board (KKRDB) in Kalaburagi and address media at 4 p.m.
From coastal Karnataka
1. BJP MLAs and MLCs of Dakshina Kannada to stage protest in front of Deputy Commissioner's office in Mangaluru accusing some officials of interfering in the rights of MLAs. They say that two government programmes in the district, which were to be presided over by MLAs of Bantwal and Moodbidri, were cancelled recently in the guise of protocol violation without intimating the MLAs. They demand revoking suspension of the Executive Officer of Moodbidri taluk panchayat and a Panchayat Development Officer in Moodbidri taluk who have been suspended in connection with protocol violation.
2. Minister for Women and Child Development, Empowerment of Disabled and Senior Citizens Lakshmi Hebbalkar will inaugurate Sanjeevini Super Market, managed by women of a self help group, in Udupi. The market has been set up under the National Rural Livelihood Mission. Later, she will inaugurate free online CET, NEET and JEE coaching programme for pre-university students of government colleges in Udupi. The Minister will review progress of development projects and implementation of welfare schemes of tourism and fisheries departments, noon onwards.
3. The full 32-member team of Hanumagiri Yakshagana Mela of Dakshina Kannada will present an all-night Yakshagana show, Shukra Nandane, on the premises of Delhi Kannada Sangha on August 19. Delhi is witnessing an all-night Yakshagana performance after a gap of eight years. It is for the first time that a full team of a Yakshagana mela is performing in Delhi, says its co-odrinator Vidya Kolyur. The 'rangasthala' (stage) of the mela was transported to Delhi by train.
From south Karnataka
1. Minister in charge of Mysuru district H.C. Mahadevappa and Minister for Animal Husbandry K. Venkatesh to participate in Dasara Executive Committee meeting.
2. Minister in charge of Kodagu district N.S. Boseraju to hold a progress review meeting at Somwarpet.