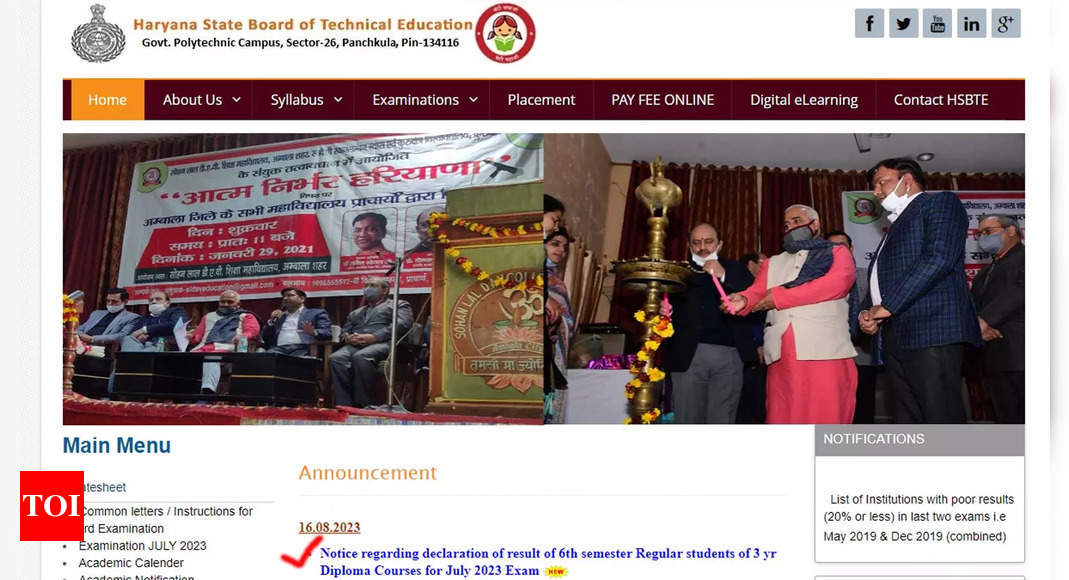 HSBTE
Result 2023:
The Haryana State Board of Technical Education (HSBTE) has declared the results of the 6th semester regular Diploma examinations conducted in July 2023 for all 3-year Diploma Courses. This significant announcement was made today, on August 16, 2023.
Students pursuing the 6th semester of regular Diploma courses under HSBTE are advised to access their results through their respective Institute's login on the official portal, http://hsbtehry.com. Students are advised to promptly get in touch with their respective institutes to acquire their result status.
In addition to the main examination results, the reappear results of 6th semester regular students are also available, provided their answer sheets have been evaluated at Technical Marking Centers (TMCs).
It is important to note that the Provisional Diploma Result will be issued to eligible students who have clear results in their previous semesters, and have not applied for rechecking or re-evaluation in any subject. However, for students seeking re-evaluation or rechecking of their 6th semester exam papers, the procedure will be initiated only after the comprehensive HSBTE results for all semesters are officially declared.
The HSBTE has announced that it will not entertain any requests for reevaluation until the complete results of all semesters have been released. Students who choose to apply for re-evaluation or rechecking will not receive the Provisional Diploma Result until the final outcomes of the re-evaluation and rechecking process are officially declared by the Board.
For further information and updates, students are advised to visit the official HSBTE website at http://hsbtehry.com.
Direct link to check HSBTE 6th Semester Diploma Results
Here are the steps to guide you through checking your HSBTE 6th Semester Diploma Results online:
Visit Official Website: Go to the official website of the Haryana State Board of Technical Education (HSBTE) at http://hsbtehry.com.
Navigate to Results Section: Look for the "Results" or "Examination Results" section on the homepage. Click on the link to access the results portal.
Select Exam and Semester: Choose the relevant examination (6th Semester) and enter your details like roll number, registration number, or any other required information.
Submit Information: After entering the necessary details, click on the "Submit" or "Check Results" button. Ensure the accuracy of the information you've provided.
View Results: Your HSBTE 6th Semester Diploma Results will be displayed on the screen. Check your marks, grades, and any other relevant information.
Print or Download: If desired, you can print your results directly from the webpage or download them as a PDF file for future reference.