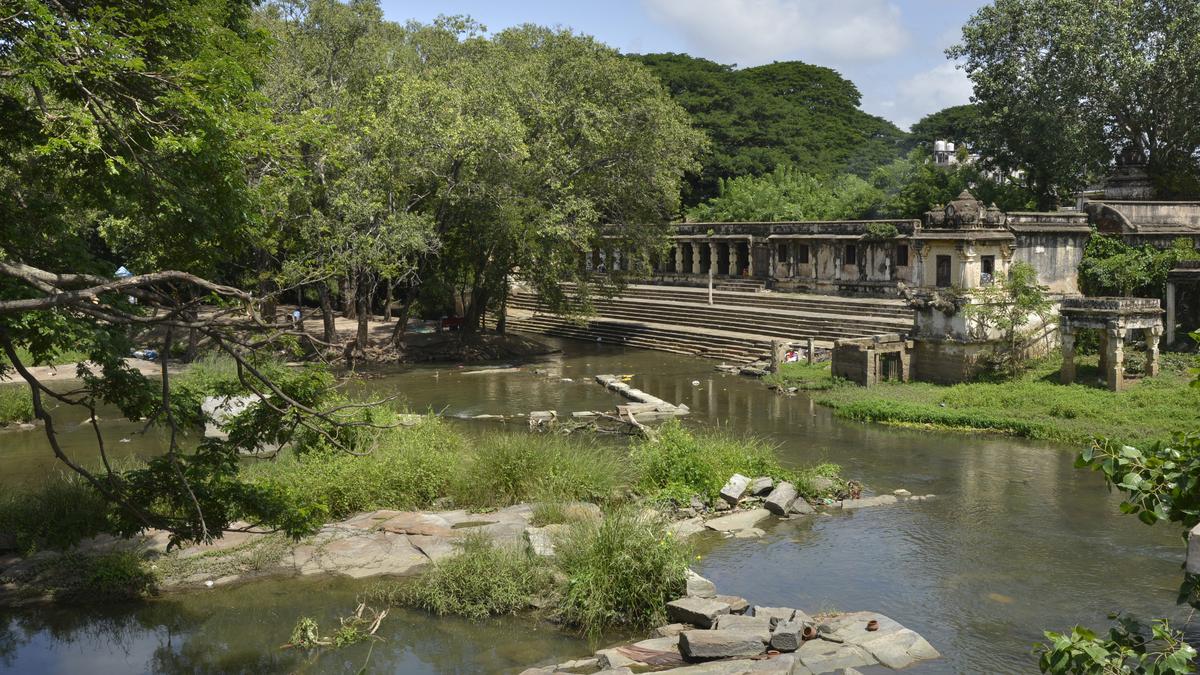 Amid pressure from the Opposition BJP and Janata Dal (Secular) that have slammed the government's decision to release the Cauvery waters to Tamil Nadu, the State government is set to appeal to the Cauvery Water Management Authority (CWMA) to reconsider its direction given to Karnataka.
The announcement on Thursday evening by Deputy Chief Minister D.K. Shivakumar, who holds the Water Resources portfolio, came even as the Opposition leaders accused the Congress government's decision to release water to be a part of its "effort to win the 2024 Lok Sabha elections". The JD(S) and the BJP accused the Congress of trying to "mollify the DMK government", which is part of the Opposition alliance INDIA, by "betraying the trust" of people of Karnataka.
'To honour authority'
"We have been instructed to release 10,000 cusecs of water for 15 days. There is a scarcity of water even for drinking purposes let alone for irrigation. Karnataka is in distress due to the non-availability of water," Mr. Shivakumar told presspersons in Bengaluru on Thursday. "Despite the scarcity, we started releasing water to honour the directions of the authority."
He, however, said, "We have released some quantum of water in the last few days but they (Tamil Nadu) are not satisfied. We will appeal to the authority to reconsider its direction." He added, "Karnataka is in trouble." He also said that the government would consider convening an all-party meeting to discuss the issue, a suggestion that the former Chief Minister H.D. Kumaraswamy had made earlier in the day.
Mr. Kumaraswamy had earlier in the day demanded that water release be stopped immediately, while BJP leader and former Chief Minister Basavaraj Bommai accused the government of letting go of the State's right. The two leaders also slammed Mr. Shivakumar who had asked the farmers to approach the court in this regard.
Taking the social media platform X, Mr. Kumaraswamy urged the State government to stop the release of water and follow the distress formula in sharing water. "The government is releasing water at a time when there is no water for farmers and there is a shortage of drinking water in Bengaluru… The government has yielded to Tamil Nadu that had walked away from the Cauvery Water Management Authority meeting and approached the Supreme Court. Previous governments had stood up to Tamil Nadu's threats, but this government released water out of scare after the State went to court," he said, asking why the State government did not want to convince the Supreme Court over the scarcity of water.
Mr. Bommai too slammed Mr. Shivakumar for asking farmers to approach the court, "If farmers need to approach the Supreme Court to save the Cauvery water, why is he still in power?" He further said there seems to be a "political interest" in "betraying the State's interest to protect the interest of the DMK government in Tamil Nadu".
Land under cultivation
Mr. Bommai further said, "Tamil Nadu farmers should have utilised 32 tmcft of water to cultivate in 1.8 lakh hectares as per the tribunal award. However, they have used 60 tmcft to grow crops in 4 lakh hectares. Karnataka should question this."